---
THE PROBLEM: The WB&A Trail project is in jeopardy due to the vocal opposition of a small minority of residents along the proposed trail route. In order to secure this important community resource, we must voice support for the WB&A Trail project.
BACKGROUND: From Glen Dale to Annapolis, the WB&A Trail corridor stretches more than 20 miles and provides an integral link for a 50-mile trail system in both Anne Arundel and Prince George's Counties. The segment from Bowie to Odenton, however, is facing opposition from residents who dispute the corridor's ownership and who fear community degradation as a result of the trail. The entire right-of-way of the disputed corridor is under public ownership. As trail supporters, you understand the unique community benefits of these projects. If opposition halts the WB&A, the link to Annapolis and the highly successful (1.5 million users last year) Baltimore & Annapolis Trail will not occur.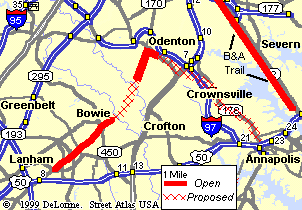 Bowie to Odenton Extension Threatened
ACTION: In order to secure this important community resource, please contact Janet S. Owens, the County Executive for Anne Arundel, to express your support for this important trail project.
MAILING ADDRESS:
Janet S. Owens
Anne Arundel County Executive
Arundel Center 44 Calvert Street 4th Floor
Annapolis, MD 21404
Telephone #: (410)222-1821
Fax #: (410)222-1155
E-mail: fschram@mail.aacounty.org
Please inform Ms. Owens of the benefits of trails, such as how the WB&A Trail will provide recreation for people of all ages and abilities, alternative transportation options and economic development for Anne Arundel County.
For more information: Contact Morris Warren, President of the WB&A Trail Association at (301) 464-0570.