| | |
| --- | --- |
| C&O Canal Bicycling Guide | Mile 82 thru 106 |
Williamsport, Maryland highlights this section of the towpath. The town was a major inland port during the canal heydays. Today, the town is mostly just an exit off Interstate 81. However, it still supports a pretty sizable residential population and several small businesses. As a result, a number of convenience marts and restaurants are available here.
Just north of Williamsport lies the Conococheague (Con-ni-ca-jig) Aqueduct. In 1920, the upstream wall of the aqueduct collapsed after being struck by a canal barge. The barge crashed through the opening and remained stuck in the creek until 1936, when a flood washed it down the Potomac. A wooden wall was hastily reconstructed in order to get the aqueduct back in service. This fix remained in place until the canal ceased operation 4 years later in 1924.
Instead of digging out the canal between Mile 84 and 88, the builders instead routed canal boats onto the river, with the towpath built along the river bank. Dam #4 created the area known as Big Slackwater that made this possible. Over time, river erosion caused the towpath to eventually disintegrate. Thus for many decades, the Big Slackwater section was impassable, requiring a lengthy on-road detour. This changed in Fall 2012, when a nearly two year reconstruction project finally closed this breach. As a result, we now have a completely car free trail between DC and the Pittsburgh area!
There are two really nice RV Campgrounds located just southeast of Williamsport. If you would like to "Park and Ride", then this makes a great starting point. You can park your RV here and then spend one or more days exploring the towpath. For RVers wishing do the entire canal, you can spend a few days covering one half of the towpath, return to your RV for an evening or two, and then spend a few more days exploring the other half.
Access Points: From I-81 in Maryland:
Mile 84.2 - Dam #4 Recreation Area:
Take I-81 Exit 1, turn onto Route 63, following signs AWAY from Williamsport.
At the next intersection, make a right to remain on Route 63 (toward Downsville)
Once in Downsville, make a right onto Dam #4 Road (Rt 632)
Large parking area at end of road.
Mile 99.4 - Williamsport Visitor Center:
Take I-81 Exit 2, onto US 11 South (E Potomac Steet) following signs toward Williamsport.
Visitor Center is about 1 mile ahead, at bottom of hill on the right
Access Points: From Westbound I-70 in Maryland:
Mile 106.6 - Dam #5:
At Exit 18, take Route 68 South, making a left at the end of the ramp.
Continue about 1¾ miles on Route 68, then make a right on Dam #5 Road
Continue about 3 miles to the parking area.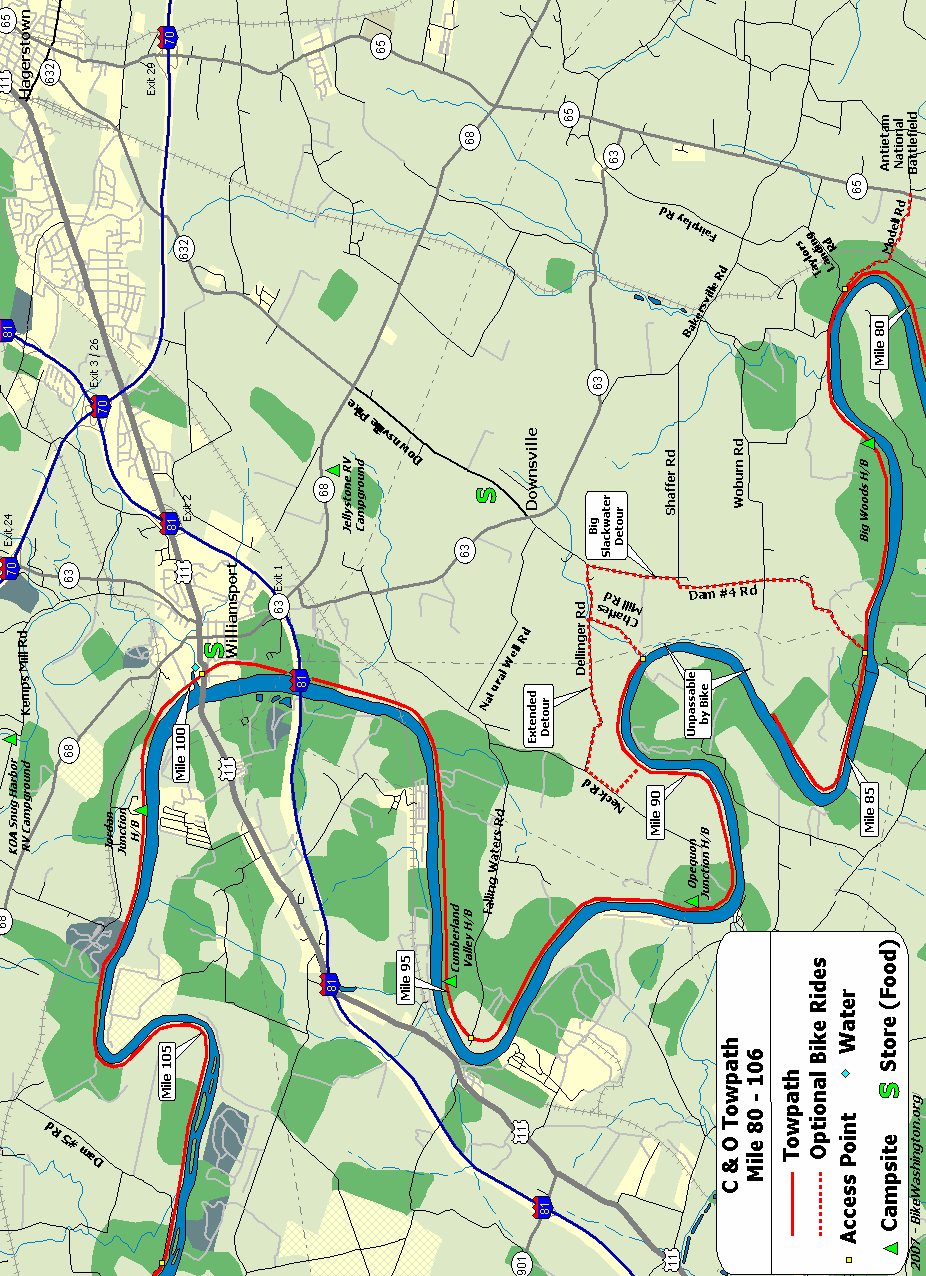 | Mile | Name | Info | | | | | |
| --- | --- | --- | --- | --- | --- | --- | --- |
| 82.5 | Big Woods H/B | Hiker/Biker campsite. 1.5 miles from vehicle access at mile 81.0 | | X | X | | |
| 84.2 | Dam #4 | | | | | | X |
| 84.2 | Downsville General Store (map) | 301.223.6401: Small Deli located in Downsville, MD. About 1 mile off the detour via Dam Number 4 road | X | X | | | |
| 90.9 | Opequon Junction H/B (map) | Hiker/Biker campsite. Remote - No nearby vehicle access. | | X | X | | |
| 93.8 | Potomac Fish and Game Club | 301-223-9871: Private club. Public access may be restricted. | | | | | X |
| 94.3 | Falling Waters | Confederate Army crossed here after the Battle of Gettysburg. | | | | | |
| 95.2 | Cumberland Valley H/B (map) | Hiker/Biker campsite. Remote - No nearby vehicle access. | | X | X | | |
| 98.6 | I-81 Overpass | | | | | | |
| 99.1 | Lock 44 (map) | Functional lock on the edge of town. Alternative access point into downtown Williamsport for loaded bicycles. | | | | | |
| 99.4 | Williamsport Visitor Center | 301.582.0813: National Park Service Visitor Center. Great displays inside the Cushwa building. A Bike Repair Station is also available at this location. | | | | | X |
| 99.4 | Red Roof Inn (map) | 301.582.3500: Williamsport, MD - Located about 1 Mile from the towpath, along Potomac Street (Route 11) | | | | X | |
| 99.4 | Jellystone Park (map) | 301.223.7117: Private Campground - Full Service RV and Cabins. Located 2 Miles south of Williamsport along Route 68. Showers, pool, camp store. | | | X | | |
| 99.4 | Hagerstown KOA (map) | 301.223.7571 : Private Campground - Full Service RV and Cabins. Located 3 Miles north of Williamsport along Kemp Mill Rd. Showers, pool, camp store. | | | X | | |
| 99.4 | Tony's New York Pizza (map) | 301.223.6266: Great place to load up on carbs. Corner of Salisbury and Conococheague Streets | X | | | | |
| 99.4 | Desert Rose Cafe (map) | 301.223.6400: Swing by for a cup of soup, a healthy sandwich or salad and perhaps an espresso or smoothy. Recently relocated to a larger space at 42 N Conococheague Street | X | | | | |
| 99.4 | Third Base Tavern (map) | 301.223.8274: Great place to cool off with a beer. 35 N. Conocheague St | X | | | | |
| 99.4 | Bay Farms Bed and Breakfast (map) | 301-875-5032: Located in downtown Williamsport, just two blocks from the towpath. 14 N Conococheague St. | | | | X | |
| 99.4 | Elmwood Farm Bed & Breakfast (map) | 240.707.0772: A relaxed and comfy farm stay experience, located 2.5 miles outside of Williamsport, MD. Shuttle service available. 16311 Kendle Road. | | | | X | |
| 99.5 | Conococheague Aqueduct | Pronounced KAH-no-KAH-cheek, the number five aqueduct was completed in 1835. Notable for the wooden upstream wall, which collapsed on three different occasions, most recently in 1920. The aqueduct was completely restored in Aug 2019, and is currently the only watered aqueduct along the towpath. | | | | | |
| 101.2 | Jordan Junction H/B (map) | Hiker/Biker campsite. 1.9 miles from vehicle access at mile 99.3 | | X | X | | |
| 106.6 | Feeder Dam #5 | Access via Dam #5 Road - Parking Area. | | | | | X |