| | |
| --- | --- |
| C&O Canal Bicycling Guide | Mile 150 thru 168 |
This section contains the single most impressive engineering feature on the canal, the Paw Paw Tunnel. Located between mile 155 and 156, the 3100 foot long tunnel was constructed between 1836 and 1850 and was the final link joining Cumberland to the Chesapeake Bay. The decision to build the tunnel was made over several other options to traverse the shear cliffs in this area along the Maryland side of the river. One idea was to dam the river thus creating a lake for barge traffic, however this still required blasting a towpath into the cliff walls. Another option was to create a series of aqueducts to cross back and forth between the Maryland and West Virginia sides. The tunnel option was eventually chosen mainly because it was expected to be completed in about 18 months (the actual construction took 14 years!).
Be aware that the tunnel is VERY dark, so I highly advise you to carry a headlamp or flashlight. The park service has erected a sturdy railing along the walkway, so you need not fear falling into the canal basin (it is quite a drop!). Soon after exiting the south portal, the towpath passes a camping area and then goes under Route 51. The town of Paw Paw, WV is about 1 mile down Route 51. The town has a general store/deli, a convenience mart, and at least one B & B.
Other points of interest include the Town Creek Aqueduct (restored in 1977) and a fully restored section of the canal at the historic area called Oldtown . Oldtown was the sight of one the country's last privately owned toll bridge. In August 1995, Maryland closed this bridge due to serious safety concerns. However, repairs have been completed and the bridge is now "officially" re-opened ($1.00 toll).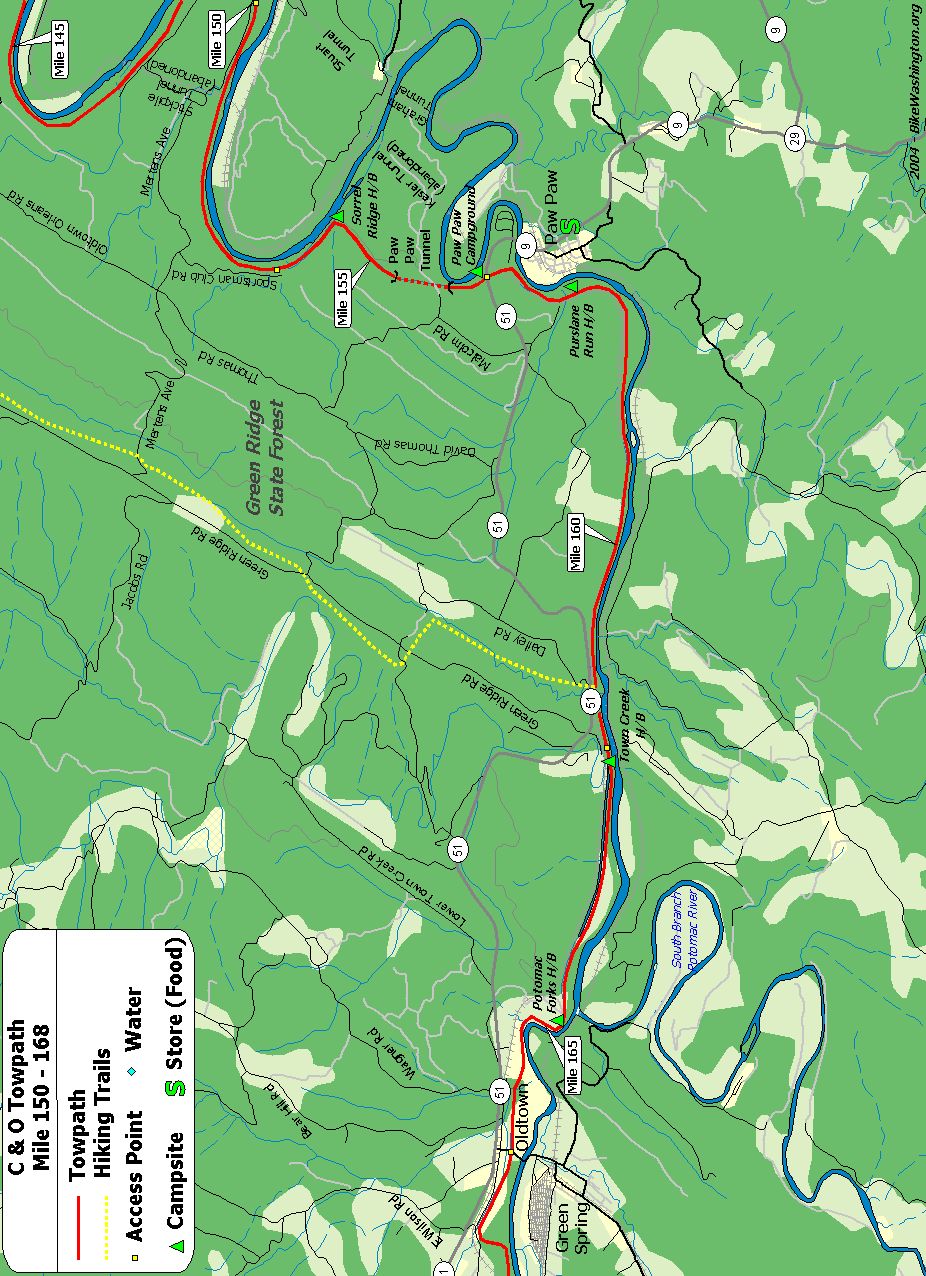 | Mile | Name | Info | | | | | |
| --- | --- | --- | --- | --- | --- | --- | --- |
| 149.4 | Stickpile Hill H/B (map) | Remote Hiker/Biker campsite. Rough access point 0.6 miles away at Mile 150 | | X | X | | |
| 150.0 | Bonds Landing | Rustic access point from Kasecamp Road. Four wheel drive may be required. | | | | | X |
| 151.1 | Three Otters Eco Retreat (map) | 304.947-5446: Some really unique lodging options are available, just across the river from the towpath. They also offer convenient canoe ferry service. | | | X | X | |
| 153.4 | Gross Hollow | Very rustic access point from Sportsman Club Rd - Four wheel drive only | | | | | X |
| 154.1 | Sorrel Ridge H/B (map) | Remote Hiker/Biker campsite - Rough access point 0.7 miles away at Mile 153.4 | | X | X | | |
| 155.2 | Paw Paw Tunnel | Downstream Entrance. This impressive structure was constructed over 14 years, completed in 1850. Currently one of the longest bike/pedestrian tunnels in the world. CLOSED until late July 2017! - detour posted | | | | | |
| 155.8 | Paw Paw Tunnel | Upstream Entrance. Nearby access to Route 51. CLOSED until late July 2017! - detour posted | | | | | |
| 156.2 | Paw Paw Tunnel Campground (map) | Easy vehicle access - Tent Campsites - Fee Area: $10/Night | | X | X | | |
| 156.2 | Paw Paw, WV (map) | General Store and Quick Mart. Located about 1 mile from towpath, across the river, via Route 51. | X | | | | X |
| 156.2 | Canal Cabins Towpath Lodging (map) | 301.338.3678: Small Cabins with Bathhouse. Cross the bridge into Paw Paw take first right on dirt road (Louie's Ln) follow fence line and cabins will be 100 yards on the left. 143 Louie's Lane, Paw Paw Wv | | | | X | |
| 156.2 | Bikepath Bed and Bath (map) | 304.947.7236: A lower cost lodging option in Paw Paw, run by a C&O Canal Steward. Fully licensed, health dept. inspected, clean and well reviewed. 109 Winchester St. | | | | X | |
| 156.9 | Purslane Run H/B (map) | 0.7 miles from vehicle access at mile 156.2 | | X | X | | |
| 161.9 | Town Creek, MD | Access point to Route 51 located 0.2 miles upstream from lock #67 | | | | | X |
| 162.1 | Town Creek H/B (map) | Hiker/Biker campsite. 0.2 miles from vehicle access at mile 161.9 | | X | X | | |
| 162.3 | Town Creek Aqueduct | | | | | | |
| 164.8 | Potomac Forks H/B | Remote Hiker/Biker Campsite - No vehicle access. | | X | X | | |
| 166.7 | Oldtown, MD | Toll bridge over to Green Spring, WV | | | | | X |
| 166.7 | Irvin Allen/Michael Cresap Museum (map) | George Washington slept here - many times. One block heading away from the river, at the tee. | | | | | |
| 166.7 | The School House Kitchen (map) | 301.478.5189: Restaurant and Community Center located in the old high school. Opposite direction from the toll bridge. Right at the tee, and the kitchen is one block on the right. | X | | | | |
| 166.7 | Camp Potomac (map) | 301-729-1300: Private camping facility 1.5 mile from the canal. Open to scouts and other youth groups. Two cabins and eight campsites available. Email bsapotom@gmail.com for reservations. | | | X | | |