| | |
| --- | --- |
| C&O Canal Bicycling Guide | Mile 168 thru 184 |
The final section of towpath is quite interesting. It seems the scenery changes constantly as the path winds the Potomac Valley between Oldtown and Cumberland. One moment, you're riding through deep secluded forests, and the next moment you are passing a quiet suburban development. Then you find yourself riding through a peaceful mountain meadow, and the next thing you hear is the clanging of railroad cars being switch at a nearby by yard.
These days, this final stretch of towpath is in excellent condition. The path ends at the Western Maryland Scenic Railroad Station, located just north of the Interstate 68 bridge. The canal itself was filled in back in the 50's for flood control, so the towpath is all that remains. An on going waterfront revitalization project is working to restore the canal to its formal glory.
Originally, the canal was supposed to continue farther west to Pittsburgh, thus joining the Ohio River to the Chesapeake Bay (hence the name). However, by 1850 the railroad had won the race to the west, so further construction plans were scraped.
In December 2006, the eastern end of the Great Allegheny Passage Trail project was finally completed. In combination with the towpath, this new rail trail creates a 330 mile long, traffic free greenway between Washington, DC and Boston, PA (just outside Pittsburgh). I can report that this new trail is simply fabulous! As an added bonus, the 15 mile section from Cumberland to Frostburg runs right next to the Western Maryland Scenic Railroad, so you can try to pace the steam locomotive as it makes the 1500 foot accent. Meanwhile, work continues on the western end to extend the trail the final few miles into downtown Pittsburgh.
Cumberland, MD is about a two hour drive from the Washington Beltway.
Take I-270 North to Frederick, MD
Take I-70 West to Hancock, MD
Take I-68 West to Cumberland, MD
In Cumberland, take Exit 43-C
At the bottom of the ramp, make left onto Harrison Street (at stop sign)
The parking lot of the Western Maryland Rail Road (WMRR) is located at the end of the street.
The new long term parking lot is located under I-68 at the corner of Mechanic and Howard Streets.
The Canal towpath begins directly to the left of the station (almost under the I-68 bridge)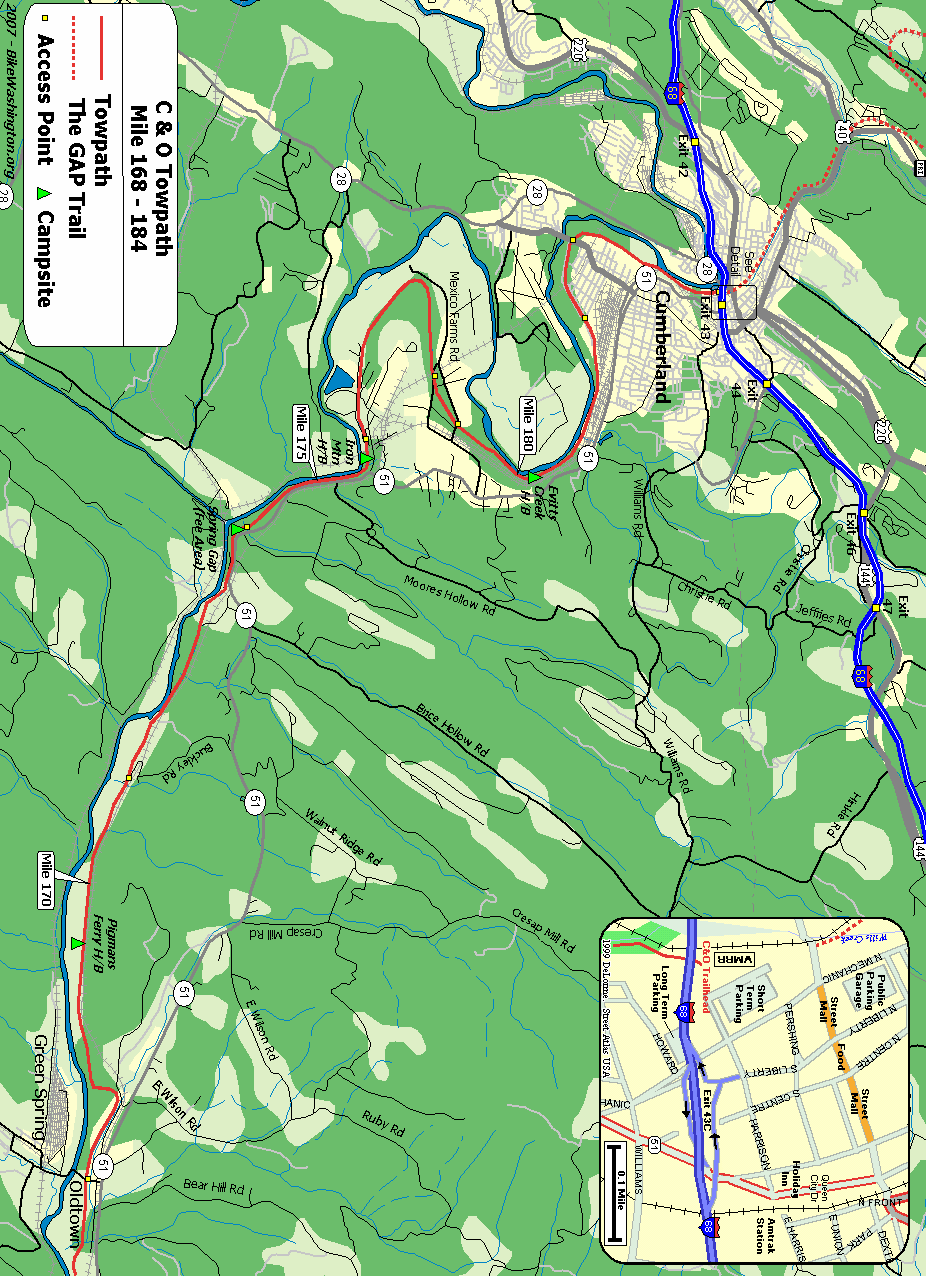 | Mile | Name | Info | | | | | |
| --- | --- | --- | --- | --- | --- | --- | --- |
| 169.2 | Pigmans Ferry H/B (map) | Remote Hiker/Biker campsite - No vehicle access. | | X | X | | |
| 170.8 | Buckley Rd | Probably access point from Route 51 | | | | | X |
| 173.3 | Spring Gap Recreation Area (map) | Primitive RV and Tent Camping - Fee Area $10/night. Store located on Route 51. | X | | X | | X |
| 175.4 | Iron Mountain H/B (map) | Hiker/Biker campsite. Access from nearby Route 51. Located near active railroad trestle. Earplugs suggested for camping. | | X | X | | X |
| 180.0 | Evitts Creek H/B (map) | Hiker/Biker campsite. 0.7 miles from vehicle access at mile 180.7 | | X | X | | |
| 180.7 | Evitts Creek Aqueduct | Access from nearby Route 51 | | | | | X |
| 184.5 | Cumberland, MD (map) | Trail heads for both the C&O and GAP trails. Several restaurants nearby; Continue north past the historic railroad station, then turn right at Baltimore St. | X | | | | X |
| 184.5 | Western Maryland Scenic Railroad (map) | 301.759.4400: Scenic Railroad up to Frostburg, MD. Follows the Great Allegheny Passage trail. They offer an option to ride the train up with your bike, and then bike down. If you take your bike, you can also make a side trip up to the Mason-Dixon Line and the Big Savage Tunnel. | | | | | |
| 184.5 | Ramada Inn Cumberland (map) | 301.724.8800: Conveniently located near the C&O and GAP trail heads. 100 South George Street | | | | X | |
| 184.5 | 9 Decatur Guest House and Hostel (map) | 240.727.7039: A more economical lodging option. Operated by the Mountainside Bike Tours and Inn on Decatur folks. | | | | X | |
| 184.5 | The Inn on Decatur (map) | 301.722.4887: Operated by the folks at Mountainside Bike Tours. Only 3 blocks from downtown. 108 Decatur Street, Cumberland, MD 21502 | | | | X | |
| 184.5 | Cumberland Trail Connection (map) | 301-777-8724: Full Service Bike Shop located just off the trail. Many rental options. 14 Howard Street. | | | | | |
| 184.5 | Fairfield Inn (map) | 301.722.0340: Located right next to the trail, just south of the interstate. | | | | X | |
| 184.5 | The Crabby Pig (map) | 301.724.7472: You've just completed 185 miles. Have a beer! Right near the Fairfield Inn. 13 Canal St. | X | | | | |
| 184.5 | Cumberland YMCA (map) | 301.777.9622 : For about $12, you can pitch your tent across the street from the Y. Includes use of indoor showers and restrooms. See PROGRAMS on website for more details. About 1 mile from the trail. 601 Kelly Road, Cumberland, MD | | | X | | |