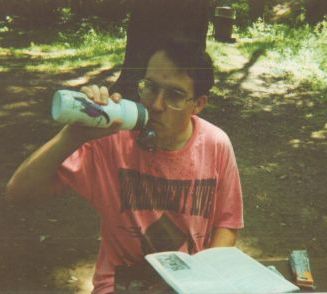 Mile 79 - Stopped for a quick snack. As you can see, after only a few hours of riding, we were feeling pretty beat up due to the wet towpath conditions and sore butts. However by this time things had nearly dried out.


About an hour and a half later, a large thunderstorm began to form to the north. We raced the storm about 8 miles to Williamsport (mile 100), beating it by just a few minutes. Lunch was spent in a Pizza parlor for about an hour while the storm passed.


The remaining 24 miles that day was slow and difficult due to the wet conditions. By the time we reached Hancock, MD at 6pm, we were totally trashed and exhausted.