This is one of my favorite get-away rides. It meanders all around the wonderful Sharpsburg, MD countryside, and then follows the C&O Towpath along the Potomac River. There are a few hills, but nothing too bad.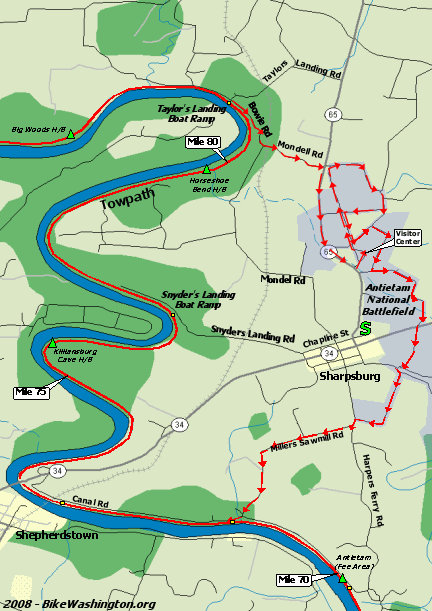 Map of Route
The trail starts off at the Antietam Battlefield Visitor Center (pronounced ann-tee-tam) and follows the automobile tour route through the battlefield. When you near the end of the route (at Harpers Ferry Road), hang a left then a right onto Millers Sawmill Road. This takes you down to the river and the C&O Canal. Follow the C&O Towpath about 10 miles north to Taylors Landing Boat Ramp. From here, cross over to the berm side of the canal basin and then follow Bowie Rd in the reverse direction. At the top of the hill, make a left onto Mondell Road, which takes you up to Route 65 and then back to the visitor center.
The first 8 miles are mostly in the open, so it can be pretty hot during the summer. There are a few sizable hills between mile 5 and 6. However, once you reach the shaded towpath, it becomes flat and noticeably cooler. There are two optional bailout points along the towpath; one at the Route 34 crossing, and the other at Snyder's Landing. Food is available on weekends at a small mom-and-pop store called Barron's C&O Canal Trail Store, also located at Snyder's Landing. Once you reach Taylor's Landing, there is about a mile climb up to Route 65. It is then about a mile back to the start along the wide Route 65 shoulder.
If you are in for a more challenging route, you can add 20 miles by taking a detour south along the towpath to Harper's Ferry.
Directions from Washington: Take I-270 North to Frederick, MD. From here follow I-70 West toward Hagerstown. Exit at Route 65 South, which will take you down to the battlefield.