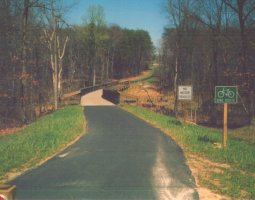 The BWI Trail near Amtrak Station
The next time you are out near BWI Airport, you might like to check out the area's newest trail. Designed primarily with commuters in mind, the 11 mile BWI trail is also an excellent recreation facility.
Many trail sections are surprising peaceful, despite the close proximity to airport runways.The ride through Friendship Park's young pine forest is very pleasant. Andover Park, at the north side of the airport, provides a great overlook of the general aviation runway.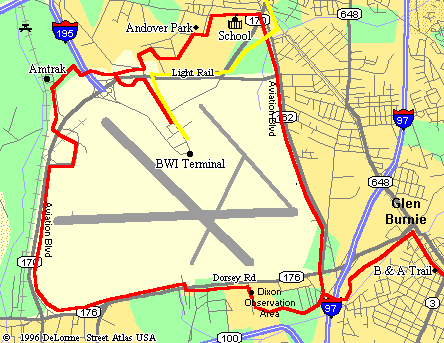 Map of BWI Trail
The best way to reach the BWI trail is by bike! A short trail spur provides access to the popular B&A Rail Trail running between Glen Burnie and Annapolis. If you prefer to drive to the trail, then a good parking area is the Dixon Observation Park (about one mile west of I-97 Exit 15 on Dorsey Rd). On nice days, this lot will fill up quickly. When this happens, additional parking is available just east of I-97 along the trail spur. Make sure you bring along enough food and drink, since there are no stores along the path. If you get in a bind, I am pretty sure vending machines are available at the Amtrak Station. Rest rooms are available at Andover Park and the Amtrak Station.
If you are coming from Washington, take I-95 North from the Capital Beltway. Use Exit 47 for I-195 toward BWI. After about 4 miles, take the first exit for Aviation Blvd, Rt 170 (Amtrak Exit). Follow Rt 170 for about 2 miles, then make a left onto Dorsey Road, Rt 176 at the light. The Dixon Observation Park is on the right, about two miles down Dorsey Road.