This quiet corner of Maryland was featured in the fictional movie "The Blair Witch Project". Now, here is your chance to get lost in the woods! This great ride follows the sleepy roads around South Mountain, with a "bonus" climb over the top! The route also takes a short romp on the unpaved C&O Towpath.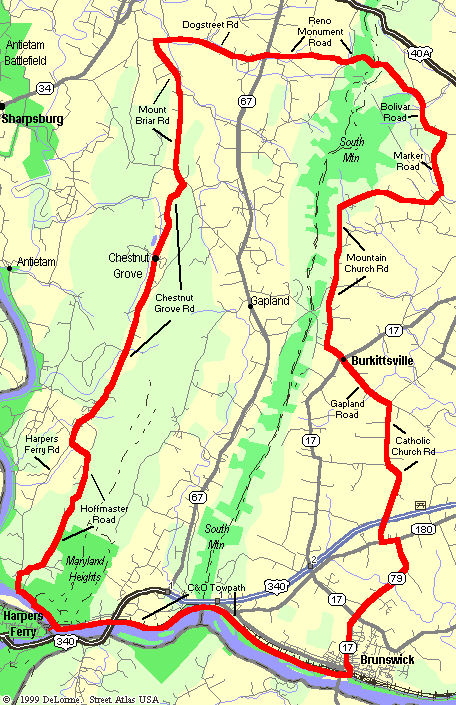 Map of Route
The suggested starting point is the commuter parking lot located in Brunswick, Maryland. The route heads north along mostly rural roads, passing through the quaint town of Burkittsville. This section is mostly rolling terrain with a couple of moderate hills here and there. At Fox Gap, the ride becomes a bit mean with a long climb over South Mountain (via Reno Monument Road). After the ride crosses Route 67, the terrain smooths out for the return ride along the other side of the mountain. The return crossing is via the flat (but unpaved) C&O Towpath.
This area is teaming with Civil War history. Each time the Confederate Army crossed into Maryland, it often hid on top of South Mountain. On September 14, 1862, a huge battle occurred along the ridge above Burkittsville. Four days later, the Battle of Antietam (the war's bloodiest battle) occurred at nearby Sharpsburg, Maryland. During the following summer, the Confederate Army passed through this area again prior to the Battle of Gettysburg. The ride also passes through the home turf of Abolitionist John Brown. His October 1859 assault on the federal armory at Harpers Ferry was one of the catalysts that helped spark the war.
From Washington, take I-270 North toward Frederick. Here, switch to Route 340 south toward Harpers Ferry. Take the Route 17 exit for Brunswick. About a mile south, continue on Route 17 by making a right turn at the traffic light. When you reach the traffic circle, following it ¾ the way around to exit at A-Street. The parking area is located just past the first railroad crossing. The bike route begins by tracing the reverse route back up Route 17.