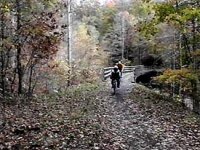 Riding the Creeper

The Virginia Creeper Trail is simply awesome! Nearly 6 hours from DC, it is not the most convenient of the area rail-trails. However the rugged terrain and remoteness provides wonderful vistas.

My wife and I rode the Creeper's western most 10 miles during the summer of 96 (we spent the night in Abington on our way to the Atlanta Olympics). The first few miles out of Abington has excellent surface conditions (crushed limestone). As we traveled east, the conditions slowly deteriorated. By the time we turned around (a bit past Alvarado), the surface was somewhat rocky, but still quite passable. Along the way, we crossed some incredible trestles, include a neat horseshoe trestle over the Holston River.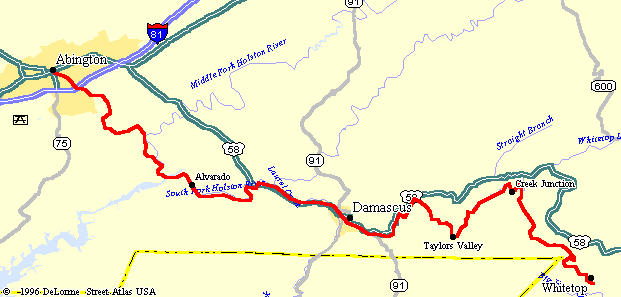 Map of the Creeper Trail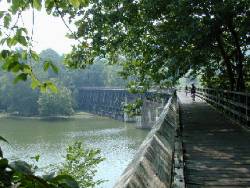 Mile 8: Trestle over Holtson Lake (James Cowan)
An unusual feature of the Creeper is that much of it crosses private farm land. This strange arrangement gives you the legal right of way through these area as long as you stay on the path. This also means that you must stop every few miles in order to open gates between property boundaries. You may also have to navigate around livestock, as my wife and I did when we found ourselves in the center of a cow herd.
The Creeper Trail also has strong community support. For example, on July 29, 2001 a rather large trestle over Whitetop Laurel creek was completely destroyed by a local flood. A combination of volunteers, contractors, and the US Forest Service quickly pulled together to clean up the mess and restore the trail. Within three weeks a temporary bridge was in place! A permanent replacement is planned by Summer 2002.

---
Directions from Washington:

Mile 0 - Take I-66 West from I-495
Mile 65 - I-81 South (1:05)
Mile 348 - Exit 17 - US 58A North (5:48)
Mile 349 - Abingdon, VA (5:49)

---

More Information:
Lodging: