Photos Along the Trail
In September 2001, Queen Anne's County opened this nice little trail running across Kent Island. The Cross Island Trail starts in the Terrapin Nature Area (located directly across the bay from Sandy Point Beach) and runs all the way to Kent Narrows. This wide, paved trail offers some nice views of the Chesapeake Bay and the surrounding forests of Kent Island. The county has also constructed a couple of nice bridges along the trail which offer great views of the local waterways.
Kent Island is less than an hour drive from the Capital Beltway, so this would make a nice family day trip. If your family makes the annual "beach pilgrimage", then this trail would also provide a great diversion to break up the long ride. In addition to bicycling, there are also over 2 miles of hiking trails in the Terrapin Nature Area, located at the western end of the bike trail. After your ride, you can enjoy one of the many restaurant located near the path.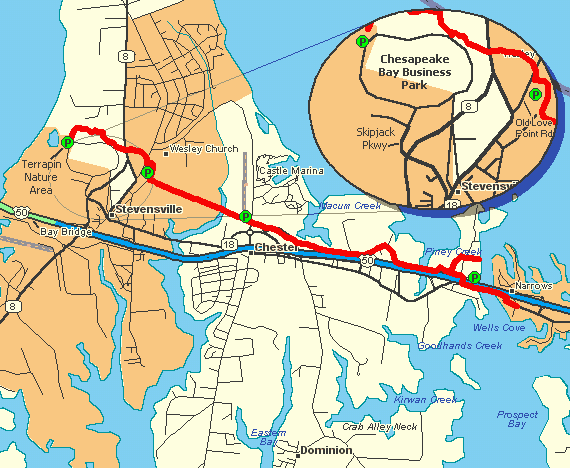 Overview Map of Cross Island Trail
Although Queen Anne County has done are really great job with this trail, there are a few issues. First, it is only 5 miles long. This makes it perfect for a family outing, but not much of a draw for more experienced riders. Also, the trail has rather large number of stop signs, some of which are questionable placed. For example, I counted at least 6 stop signs in one quarter mile section. In my opinion, many of these crossings (like the ones located in parking areas), should be directed toward cars instead of making bikes stop every few yards. Poorly placed stop signs simply encourage cyclist to disregard the law. Even more annoying are the "Biker Dismount" signs located at each crossing. Since these signs are yellow, I assume they are only a suggestion. However, I could not wonder why they did not also have signs at each crossing asking inline skaters to "Remove Skates before Crossing".
Reaching the trail is quite easy:
From the Capital Beltway (I-495), take Route 50 east past Annapolis
After crossing over the Bay Bridge ($2.50 toll eastbound only), take the first exit, Route 8 Stevenville.
At the top of the exit ramp, make a left onto Route 8 at the light, crossing over Route 50.
At the next traffic light (Skipjack Pkwy), make a left into Chesapeake Bay Business Park.
The road will come to a tee. Make a left here and follow the circle road around the Business park to the Terrapin Nature Area.
As an alternative, you can also follow Route 50 across the island and exit at Kent Narrows. There is ample parking here underneath the Route 50 bridge, located right next to the trail.
---
Related Links