Rusty River - The bright red Blacklick Creek gets its color from coal mine acid drainage.
The Ghost Town Trail is a wonderful example of extremes. This excellent trail is located in west central Pennsylvania just a few miles north of Johnstown. The route meanders through the peaceful Blacklick Creek valley, passing the remains of several abandoned mines and "ghost" towns.
The trail surface, consisting of fine crushed limestone, is in excellent condition. The main trail runs 32 miles uphill from Blacklick and Ebensburg (climbing about 1050 ft along the way), with a 14 mile northen branch about mid-way at Vintondale. Also shown here is the 10 mile long Hoodlebug Trail, which connects to Indiana, PA, home of ISU.
Passing one of the "Chernobyl" zones.
At first this appears to be your run of the mill rail trail project, that is until you get your first glimpse of the bright red Blacklick Creek. The creek's strange color is due to acid drainage from local coal mines. Every few miles, the trail momentarily leaves the lush green surroundings and enters one of the "ecological disaster areas" created by long since abandoned mines. I found it amazing that even after being abandoned for decades, there is hardly a weed in sight.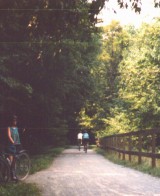 Decending the trail's scenic west end.
After passing the halfway point near the town of Vintondale (and its historic Furnace), the flat trail and periodic Chernobyl zones are a thing of the past. Here, the trail begins the long climb up to the town of Nanty Glo, PA. The forest becomes thicker and the bright red creekbecomes a clear mountain stream with rapids and waterfalls.

---
Lodging

---

Directions from Washington

Start - Take I-270 North from I-495
30 Miles - I-70 West to Breezewood, PA
80 Miles - Take PA Turnpike West toward Pittsburgh
15 Miles - Take I-99 North toward Altoona
30 Miles - Take US 22 West to Ebensburg
17 Miles - Arrive Ebensburg - about 2h 40m

Related Links