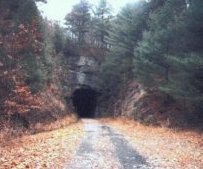 "Raw" Tunnel East of North Bend Park
(courtesy of Mike Gingrerch)
The 72 mile long North Bend Rail Trail (NBRT) is located in north central West Virginia, between Interstates 77 and 79. The trail nearly parallels Route 50 between Parkersburg and Clarksburg, which provides very easy access. Thanks to the rugged terrain in this area, the NBRT contains numerous points of interest including twelve tunnels and many bridges.
The NBRT project, begun in 1991, was formally a spur off the CSX system. Today, the rails and original ballast are gone. The NBRT folks have slowly developed the trail starting from four "model sections" which were then connected to form the current trail. Thus, you can expect the trail conditions to change form one area to another. The recent 1996 acquisition between Parkersburg and Walker is still under development and thus is not passable in some sections.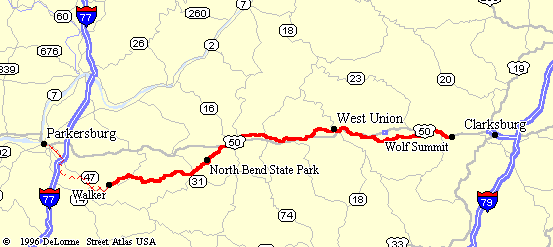 Map of Trail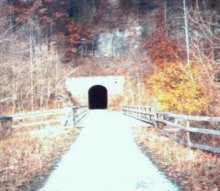 Tunnel / bridge at the edge of North Bend Park
(courtesy of Mike Gingrerch)
In November 1997, Mike Gingerich sent me a trail report on the 22 mile section between Walker and Ellenboro. He reported that the conditions were pretty good (similar to the C&O towpath), allowing him to average between 9 to 12 mph. A more recent report on the West Virginia Rails-to-Trails Council page shows that the trail still has several rough sections.
---
---
Directions from Washington

Mile 0 - Take I-270 North from I-495
Mile 33 - I-70 West (0:33)
Mile 85 - I-68 West (1:25)
Mile 196 - I-79 South (3:16)
Mile 226 - US 50 West at Clarksburg, WV (3:46)
Mile 236 - Wolf Summit, WV (3:59)

Lodging

Days Inn, Clarksburg near Jct I-79 and Rt 50 - Phone: 304-842-7371
Greenwood Motel, Greenwood, WV - Near Trail Mid-point - Phone: 304-873-1487
Econo Lodge, PArkersburg, WV - Phone: 304-428-7500