Miles: 22
Surface:
Paved

Western Maryland Rail Trail
---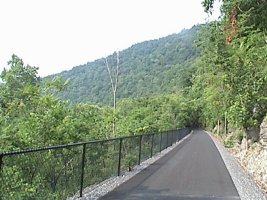 New "Phase II" Section (Photo: Dave Miller)
[Location of Feb 2003 Landslide]
The Western Maryland Rail Trail (WMRT) is the area's latest rail-to-trail project. This paved trail is located in the thin Maryland neck between Hancock and Fort Frederick, about 1 1/2 hours northwest of the Capital Beltway. It is sandwiched between I-70 to the north and the C&O Towpath / Potomac River to the south. By using the towpath, this can make a really nice loop ride (up to 40 miles!). Since this is a paved trail, it's also a great spot for rollerblading. The trail's close proximity to I-70 makes for easy access, but does mean you will have to contend with the traffic noise in some places. Also, the trail is still a few years away from being well shaded, so make sure you have plenty of water and sunscreen.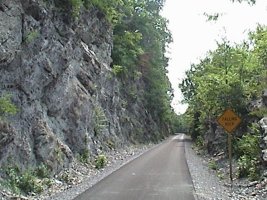 Watch for fallen rocks! (Photo: Dave Miller)
There is plenty of parking available in Hancock, MD and the eastern trailhead. The eastern parking area is located only a few hundred feet south of I-70 exit 12. If this lot is full, continue 3/4 miles along Route 56 to Fort Frederick State Park.
Additional parking is available in Hancock, Maryland near the corner of Main Street and Pennsylvania Ave. There are several places to eat on Main Street, including the popular Weaver's Restaurant & Bakery (located east of the trailhead). If your tastes are more mainstream, then there is also a Pizza Hut just a few blocks west of the trailhead.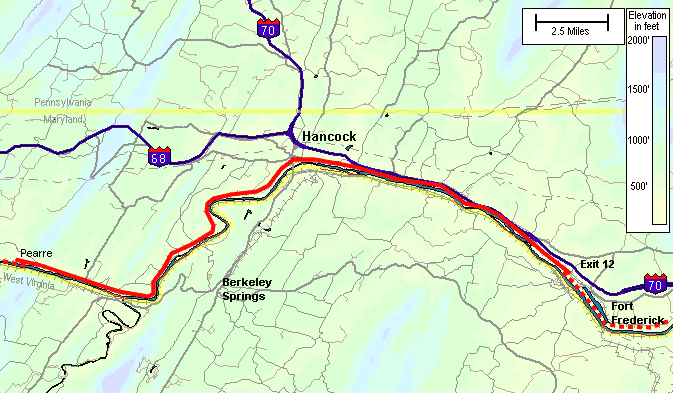 Map of Western Maryland Rail Trail
dotted lines show C & O Towpath (unpaved)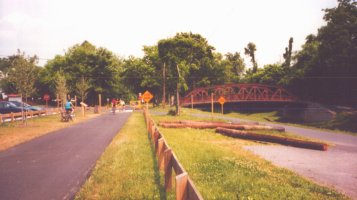 Present trailhead in Hancock, MD. Bridge crosses canal over to C&O Towpath
The first 10 mile long section opened in March 1998. In June 2002, an addition 10 miles were added to the trail west of Hancock. The excellent western section follows the rugged mountain terrain west of Hancock. The newer section offers great views of the Potomac and surrounding mountains, and no interstate noise! Two additional west end miles were completed in 2005, and an additional 4.5 mile western extension is now planned to Little Orleans, MD
For your return trip, consider taking the C&O Towpath. Although unpaved, it is quite shaded and thus much cooler. This will however add five miles to your trip. Once you reach Fort Frederick, just follow the park roads uphill until reaching Route 56. Make a right on 56, heading down the long hill. The parking area is about 3/4 miles down the road on the left.
Optionally, you can also cross back over to the WMRT at C&O mile markers 117 and 119.
---
---
Directions from Washington

Mile 0 - Take I-270 North from I-495
Mile 33 - I-70 West toward Hagerstown (0:33)
Mile 74 - Exit 12 to Ft Frederick (1:14)

---

Related Links

C&O Bicycle - Bike Rentals

Lodging

1828 Trail Inn B&B (301-678-7227)
EconoLodge, Hancock (301-678-6101)
Hancock Budget Motel (301-678-7351)

---

Camping

Fort Frederick State Park - One mile east of trailhead
Happy Hills Campground - 12617 Seavolt Rd, 301.678.7760. Full Service RV and Tent Camping, near west end of trail.