| | |
| --- | --- |
| C&O Canal Bicycling Guide | Mile 115 thru 130 |
The town of Hancock, Maryland highlights this section of the canal. During the heydays of the canal, Hancock was a major inland port. Today, it is mainly just a small junction town located in Maryland's thin neck between Pennsylvania and West Virginia. After the 12 long mile long, nearly arrow strait ride from Fort Frederick, this town is a sight for sore eyes!,

Located at mile 124, Hancock makes a great overnight stop when using the three or six day trip options. A Super 8 Motel is within a half mile of the towpath, and Cohill Manor B&B is about 1 mile west of town on Route 144. There are also several restaurants in town.

Other points of interest in this section include the Tonoloway Creek Aqueduct ruins, and the Round Top Cement Company ruins. The new Western Maryland Rail Trail runs parallel to the towpath between Hancock and Fort Frederick.

Access Points: From Maryland I-70:

Mile 124.1: Hancock, MD - about a 1-1/2 hour drive from the Washington Beltway.
Use Exit 3, Route 144. Follow Road about 1 mile to downtown Hancock.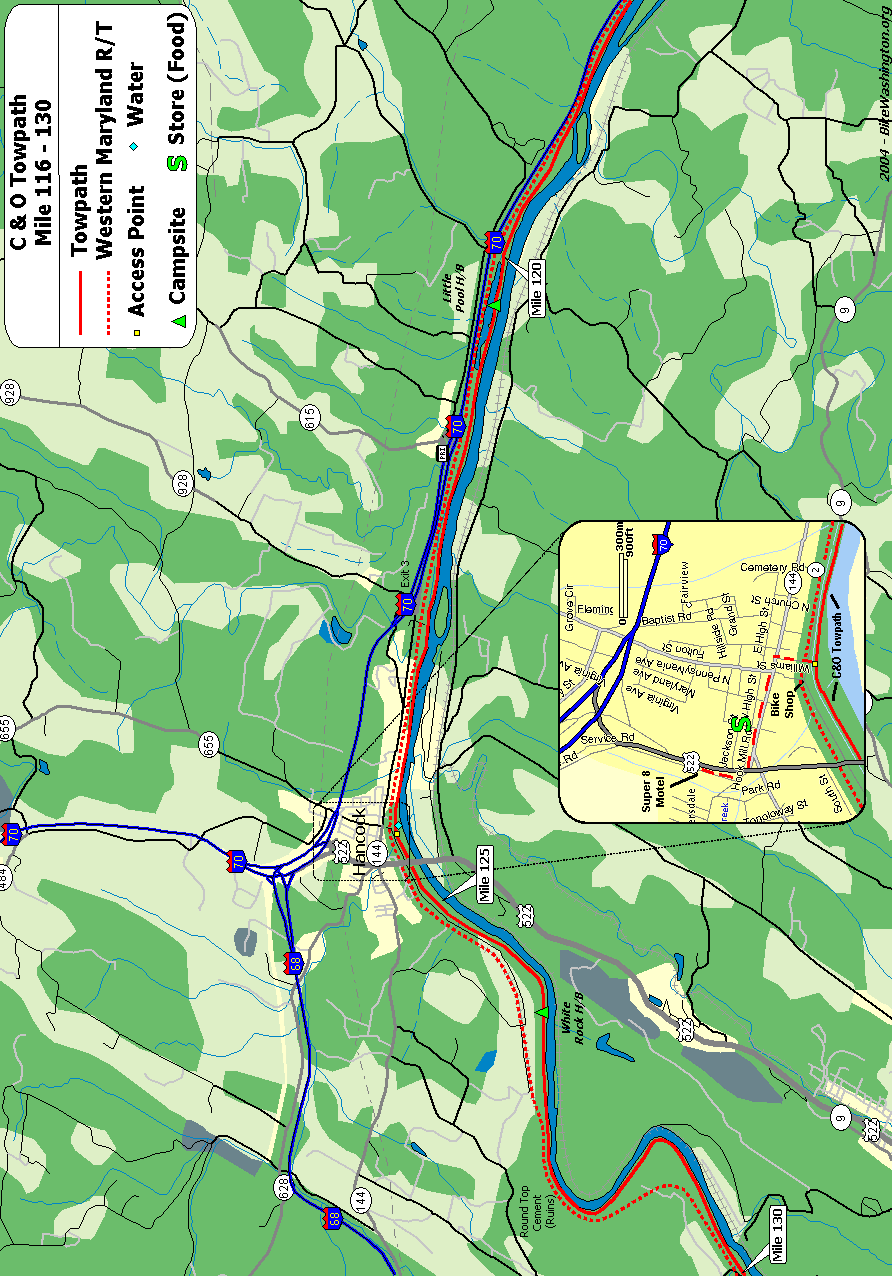 | Mile | Name | Info | | | | | |
| --- | --- | --- | --- | --- | --- | --- | --- |
| 114.0 | Big Pool | West End | | | | | |
| 114.5 | Western Maryland Rail Trail (map) | Eastern Access Point. Trailhead located 0.7 miles downstream of this point at Route 56 | | | | | X |
| 116.0 | Licking Creek H/B | Hiker/Biker campsite. 1.5 miles from vehicle access at mile 114.5. Located Near I-70 - Subject to traffic noise. Earplugs suggested for camping. | | X | X | | |
| 116.0 | Licking Creek Aqueduct | | | | | | |
| 120.4 | Little Pool H/B (map) | Remote Hiker/Biker campsite - No vehicle access. Located Near I-70 - Subject to traffic noise. Earplugs suggested for camping. | | X | X | | |
| 123.0 | Tonoloway Creek Aqueduct | | | | | | |
| 124.1 | Hancock, MD | Several Stores and Restaurants. Very easy access from towpath | | | | | X |
| 124.1 | Park-N-Dine Restaurant (map) | 301.678.5242: 189 E Main St | X | | | | |
| 124.1 | 1828 Trail Inn (map) | 301.678.7227: Hancock, MD - Bed and Breakfast located just one block from the trail. 10 West Main Street. | | | | X | |
| 124.1 | Riverrun B&B (map) | 301.678.6150: Probably one of the closest accommodations to the towpath, and several recommendations from 2010 travelers. 7 South Taney Street. | | | | X | |
| 124.4 | Super 8 Motel (map) | 301.678.6101: Hancock, MD - Travel one block away from river and turn left on Main Street. Hotel is located on far side of overpass. | | | | X | |
| 124.4 | Triangle Tavern (map) | 301.678.6175: Excellent food, well stocked bar. Owner and staff very friendly to the hiker/biker community. 200 E Main Street, Hancock, MD | X | | | | |
| 124.4 | C&O Bicycle (map) | 301.678.6665: Hancock, MD - Full Service Bike Shop, right next to the towpath on Penn Ave. Also offers overnight bunk house and snacks. Open 8am to 6pm daily. | X | | | X | |
| 124.4 | Weaver's Restaurant (map) | 301.678.6346: A towpath favorite. Great deserts! 77 W Main St | X | | | | |
| 124.4 | Buddy Lou's (map) | 301.678.6460: Light menu, mainly sandwiches and finger food, micro-brew beers, wine and mixed drinks. Nice deck overlooking the rail-trail. 11 E Main Street | X | | | | |
| 126.4 | White Rock H/B (map) | Hiker/Biker campsite. 1.2 miles from vehicle access at mile 125.2 | | X | X | | |
| 127.4 | Round Top Cement Mill | | | | | | |
| 129.8 | Leopards Mill H/B (map) | Hiker/Biker campsite. 0.9 miles from vehicle access at mile 130.7 | | X | X | | |
| 130.0 | Happy Hills Campground (map) | 301.678.7760: Private Campground - Full Service RV and Tent Camping (200 Sites). Cabins and Horse Stables available. 12617 Seavolt Rd | | | X | | |
| 130.7 | Cohill, MD | Access from Route 144 via Willow Road | | | | | X |