Bike Routes in the Washington DC Area
---
WARNING!!! Bicycling can be a dangerous activity. You are free to follow these directions at your own risk. However, the administrators of this web site can not be held responsible for any injuries, death, or damages while following these suggested bicycle routes. Many route descriptions may be vague and most certainly do not list all possible hazards. Also, many routes require on street riding in traffic lanes, while others may require some off road terrain. You should be comfortable riding under all types of conditions before attempting any of these routes.
---
Last Update:
Sept 16, 2001
---
Related Info
---
For More Info
So, you've been up and down all the area's great bike trails dozens of times and now you're looking for something different? Well, the Washington DC area has literally thousands of miles of "bike friendly" roads. This section lists many bicycle rides though out the metro area.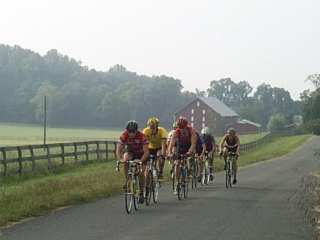 The Quiet Country Roads near Poolesville, MD
---
New to Cycling? You might not feel confident about riding with cars, which is understandable. Yes, it can be real intimidating at first. However, once you get going you will find a whole new world you might not have known existed! Here are some suggestions to help get you out on the road:
Join a bike club. There are dozens of bike clubs in the DC area, like Potomac Pedalers, which offer group rides every weekend. You can learn by riding with the pros, and they often have rides tailored for beginners.

Organized bike events. These "pay-to-ride" events occur most weekends in the spring and fall and can be a lot of fun. These rides often provide food, t-shirts, and SAG-Wagons which will take you back to your car if you or or bike "poop" out. <grin>

Know the Pitfalls - Cyclist worry about getting clobbered from behind. However, most accidents happen at intersections. This is one "Door Prize" you don't want to win!

Use Hand Signals - You'd be amazed at how accommodating motorist can be when they actually know what you plan to do. Three simple hand signals make everyone's life easier.

Get a Mirror - I rode for years without one of these gizmos. Now, I won't even leave home without my trusty handlebar mirror. It makes all the difference.