CAUTION! Although this has been a pretty standard route for many years, several roads on this route are now VERY iffy with regard to bike travel. The main issue is the suburban sprawl that has occured in the area. Roads such as Lottsford Vista Rd and Mount Oak are winding with narrow lanes and no shoulders, yet they appear to be carrying quite a bit of local traffic, even on Sunday morning. Here is an altenative route.
Do not attempt this route unless you are very experienced!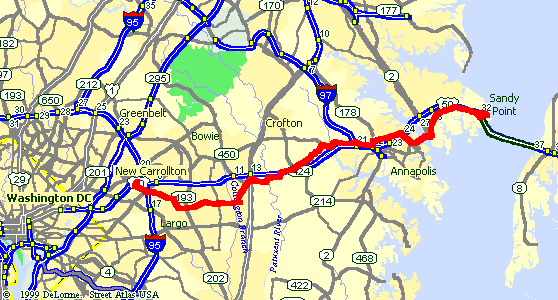 Map of Route
I often receive requests for a bike route to the ocean. Basically, it's a three step process. This route covers step 1, getting from the DC area to the Bay Bridge. This route starts at the New Carrollton Metro Station. By starting here, you can bring your bike on Metro and avoid the heavy traffic routes to west.
Click Here for Cue Sheets
Most of this route follows the "nearly" forgotten country roads along the Route 50 corridor. However, during my recent pass there appeared to be more than expected traffic on some of these narrow winding roads. I would be very careful attempting this route during peak traffic periods, as I suspect many locals use these roads to get around Route 50 backups.
Once you make it out to Sandy Point, you need to deal with step 2; getting over "The Bridge". Bicycles are not permitted on the Bay Bridge, and the state no longer provides a shuttle service. Instead, they have a private shuttle service with whom which you can directly contract. To receive more information, contact the Maryland Transportation Authority at 410-757-6000 at least 24 hours in advance.
After you make it over to the Delmarva Penisula, you will find miles of empty country roads. You can try this suggested route, or check out the American Discovery Trail.