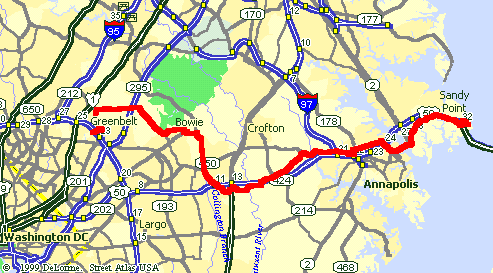 Map of Route
Here is an alternative route to the Chesapeake Bay. This route starts at the Greenbelt Metro Station. By starting here, you can bring your bike on Metro and avoid the heavy traffic routes to west. Alternatively, you can use the Anacostia Tributary Trails to ride out to the route start.
Click Here for Cue Sheets
Most of this route follows closely to the American Discovery Trail. Although this route is somewhat more circuitous than the nearby Chesapeake Bound route, this is a bit more bike friendly. However, this route does still require riding in traffic lanes. As a result, only experenced cyclists should attempt this ride.
Once you make it out to Sandy Point, you need to deal with getting over "The Bridge". Bicycles are not permitted on the Bay Bridge, and the state no longer provides a shuttle service. Instead, they have a private shuttle service with whom which you can directly contract. To receive more information, contact the Maryland Transportation Authority at 410-757-6000 at least 24 hours in advance.
After you make it over to the Delmarva Penisula, you will find miles of empty country roads. You can try this suggested route, or check out the American Discovery Trail.