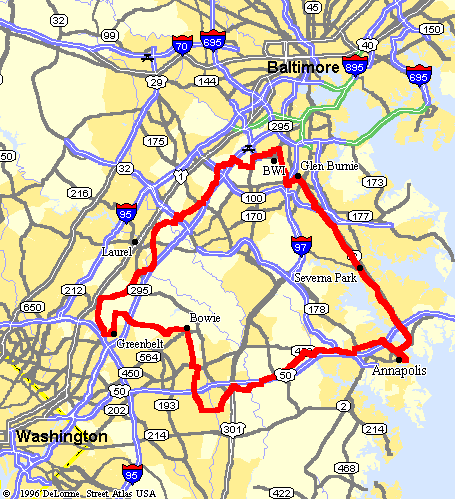 Map of Route
The 30 mile long urbanized Baltimore/Washington Corridor contains an international airport, three major highways, and lots of traffic. Thus, you would not expect this to be a good area for biking. However, there are suprisingly a few rural "bike-friendly" routes tucked in between the busy towns and highways.
This challenging "three-legged" route follows the rolling Maryland terrain between the cities of Washington DC, Baltimore, and Annapolis. The first leg between Greenbelt, MD and Baltimore Washington International Airport follows mostly forgotten back roads, such as Brock Bridge and Race Roads. The second leg runs along the B&A Trail south to charming Annapolis, MD. The final leg returns you back to Greenbelt via an "evasive" route.
There are several hills along the route, but none are terribly difficult. Please be aware that most of this route is on-street. Although the majority of these roads are lightly traveled, many lack shoulder space. Thus, you need to be comfortable riding in these conditions.