CAUTION: About 3.5 Miles uses Loose Gravel Surface. ATBs Only
This is a combination of routes 18 and 39 from Chuck & Gail's book. This route crosses both the Potomac River and a mountain range twice, but surprisingly the terrain is not too tough. About half the route is paved and half is dirt/gravel, so I wouldn't recommend skinny tires. The trail goes through some nice little towns (like Waterford) and offers some great views of the surrounding valley. There is little traffic to contend with on this route, except for the portions along Route 15 (I strongly suggest that you use the gravel shoulder here!). About 12 Miles are on the C&O Towpath and 5 Miles are on the W&OD Trail. Make sure you have $1.00 for the ferry crossing (Cars are $3.00).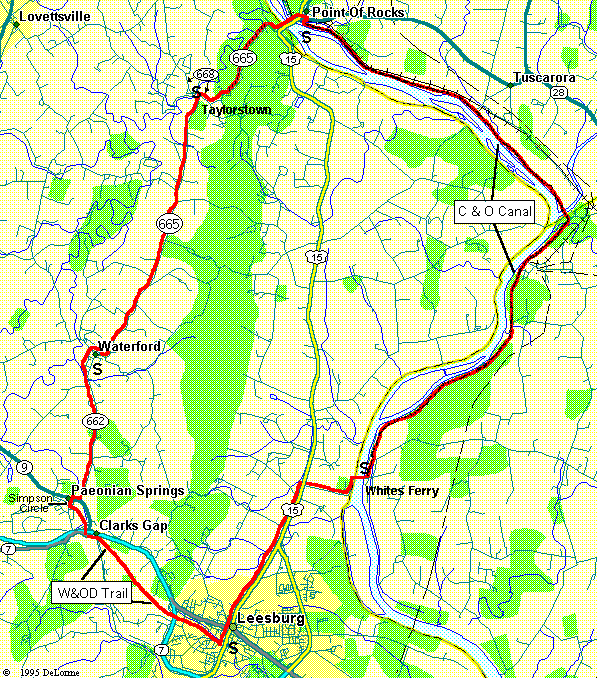 Map of Route




I think the best place to start is at Whites Ferry (about 45 minutes from the beltway). From Maryland, take I-270 to Route 28 exit. Follow Route 28 Northwest for many miles until you come to Route 107. Route 107 takes you through Poolesville and out to Whites Ferry. If you want to come from Virgina, head up Route 7 or Route 15 to Leesburg. Take the Leesburg Bypass to Route 15 North of town. The Whites Ferry turn off is not very well marked, but it is the first paved right turn after you leave the four lane Leesburg Bypass. Since parking is scarce on the Virginia side of the river, may want to drive over the ferry to the Maryland side. Otherwise you may be better off starting in Leesburg.