This is a nice easy trip around the Western Montgomery County Peninsula. Starting at Poolesville High School, the first half of the trip follows lighted used country roads north to Dickerson, MD. The route then joins the C&O Towpath at the Monocacy Aqueduct and returns past Whites Ferry. Also, there are two well spaced food stops on this trip.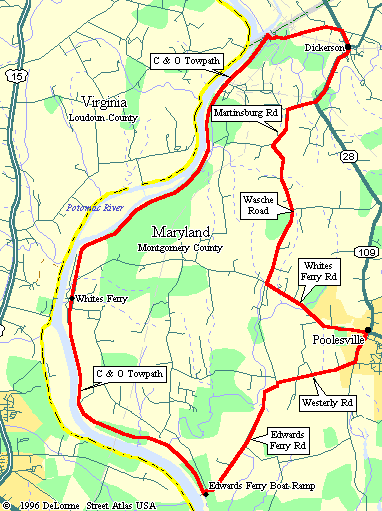 Map of Route
Mile Delta Dir Street
0.0 0.0 Start: Poolesville HS
at corner of West
Willard & Wootton
0.1 0.1 L Whites Ferry Road
2.1 2.0 R Wasche Road
4.8 2.7 R Martinsburg Road
6.1 1.3 BL Route 28 @ Light
7.3 1.2 BL After Underpass,
remain on Route 28
(FOOD)
7.6 0.3 L Mouth of Monocacy Rd
8.8 1.2 BL @ Y
9.0 0.2 L C&0 Towpath (Mile 42.2)
(Monocacy Aqueduct
to your right)
15.4 6.4 S Pass Whites Ferry
on Left (FOOD)
20.3 4.9 L Edwards Ferry Road
(Mile 30.8)
22.8 2.5 R Westerly Road
24.2 1.4 L West Willard
24.7 0.5 Finish: Poolesville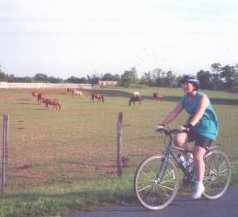 Riding along Edwards Ferry Rd
A major attraction on this route is the C & 0 Canal's Monocacy Aqueduct. Built in the early 1800's, the Aqueduct is still intact (with a little help from the Park Service). It is considered to be one of the major engineering achievements on the canal, (the other being the Paw Paw Tunnel).

This route is surprisingly flat, thanks in part to the 11 mile section of the C & O Towpath. Two moderate hills are located just south of Dickerson, and the biggest hill occurs as you leave the Towpath (right after Edwards Ferry Boat Ramp).
Poolesville is easily accessable from I-270 by taking Route 109 south. At Poolesville, go right onto Whites Ferry Road followed by a quick left onto West Willard Road. Parking is available at Poolesville High School. Optionally, you can reach Poolesville from Virginia using the Whites Ferry Potomac River crossing.