Status Update: The both interstate overpasses are now open!! Trail is now open for use, however some sections will remain on-street. Also, trail ends about a half mile prior to planned White Flint Metro terminus.
---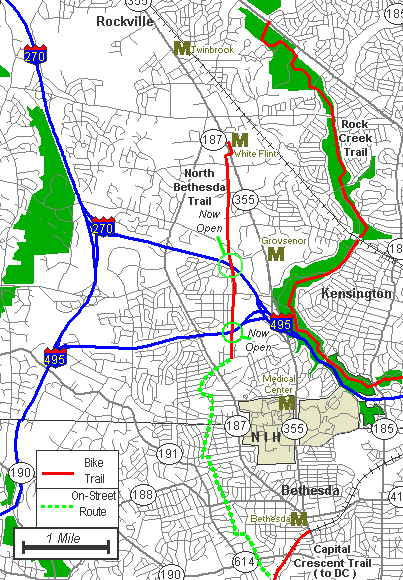 Trail Alignment - Portions are on residential streets.

The North Bethesda Trail is a new project currently under construction between Bethesda and Rockville, Maryland. Previously known as the Bethesda Trolley Trail, this project will upgrade and connect several existing trails into a very nice 4 mile long commuter route and greatly improve access to the popular Capital Crescent Trail (CCT).

The major feature of this trail are two overpasses which will span Interstates 270 and 495 (the Capital Beltway). For many decades, these two interstates have been a huge impediment to north-south bicycle travel in this congested area of Montgomery County. Construct of these two overpass projects took an amazingly long time (due to subcontractor problems). However in July 2003, the bridges were finally completed and opened to traffic.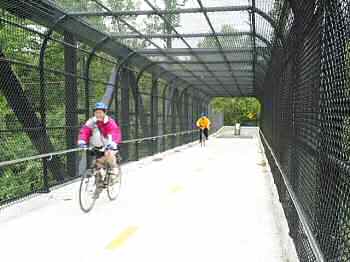 The new Beltway Overpass is now OPEN
Unfortunately, funding for the actual trail reconstruction was diverted to the Forest Glen Metro overpass project. As a result, the severely sub-standard trail sections will not be upgraded until at least 2005. However, the back streets along this corridor already provide excellent bicycle access between Bethesda and Rockville, regardless of whether the trail sections are complete.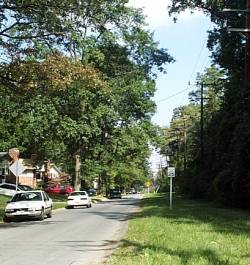 The route runs along Fleming Ave
The trail will roughly parallel Rockville Pike (Rt 355), the MetroRail Red Line, and the Rock Creek Trail. Although the Bethesda Trail appears somewhat redundant, it will be a much improved facility that should encourage bike commuting between Rockville and Bethesda. The narrow and winding Rock Creek Trail is located at the bottom of a fairly deep creek valley. A cyclist must ride down to the trail, and then climb back out of the valley to reach their destination. Because it follows a long forgotten trolley line, the new North Bethesda Trail is relatively straight and flat, and thus should significantly reduce bicycle travel time.
Although the North Bethesda Trail will greatly improve access to the Capital Crescent Trail (and thus Downtown DC), some on-street riding will still be required. However, most of the streets in this section are fairly bike friendly. (Suggested Route)

---
For more information and project status, refer to Montgomery County Public Works Department.