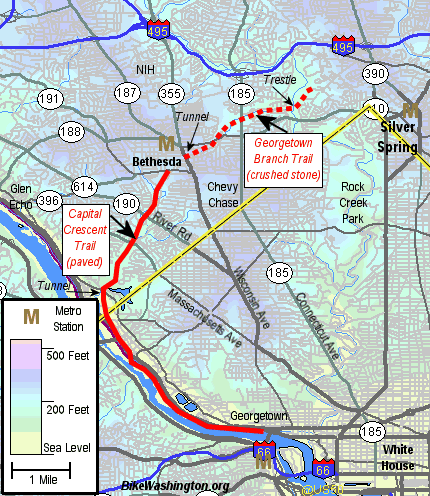 Map of CCT
The Capital Crescent Trail (CCT) is a rail trail project running though the Northwest D.C. Area. On weekends, it is a VERY popular spot for local cyclists and rollerbladers. During weekdays, bike commuters use the CCT to travel between Downtown DC and the Northwest Suburbs.
The southern 7 miles between Georgetown and Bethesda has a 9-foot wide asphalt surface and is in excellent condition. The northern Georgetown Branch extension provides a crushed gravel surface for the final 4 miles between Bethesda and Silver Spring. The two trails are connected by a brand new tunnel located under downtown Bethesda.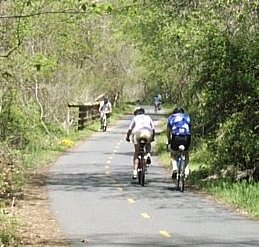 Capital Crescent Trail
The trail starts in Georgetown at the western end of Water Street N.W. (Right underneath the Whitehurst Freeway and Key Bridge). The first three miles offers some wonderful views as it follows the Potomac River and the C & O Canal. The trail then crosses Canal Road and heads north through some really up scale neighborhoods. Overpasses are now in place at the busier crossings (including the new River Road overpass) and a tunnel takes you under MacArthur Blvd. The paved trail abruptly ends at Bethesda Ave., about 2 blocks west of Wisconsin Ave. This entire section has a pretty good gradual uphill climb, with the "steepest" incline about the midpoint.
---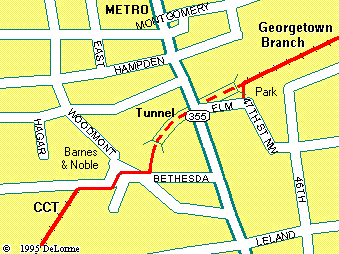 Map of Bethesda Tunnel
After arriving in Bethesda, you can pass through the Wisconsin Avenue Tunnel and continue westward on the CCT's Georgetown Branch Trail. This interim extension follows a hotly debated right-of-way through some very exclusive properties, including Columbia Country Club. Since the future of this is still up in the air (a Trolley Line is planned), this section of the trail currently has a less expensive crushed gravel surface. Therefore it may not be desirable for skinny tires.
---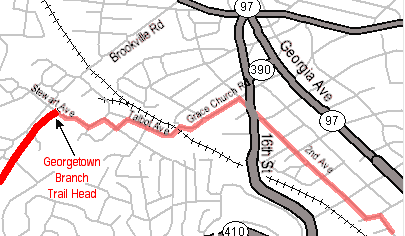 Suggested route to Silver Spring, MD
In May 2003, the trail's newest feature was opened to the public. The long awaited Rock Creek Trestle now carries the Georgetown Branch Trail 80 feet above the Rock Creek valley. Soon after crossing over the trestle, the trail abruptly ends about a mile short of downtown Silver Spring. Until the trail can be extended, this map shows a suggested on-street connection to downtown Silver Spring.
---

CCT Elevation Summary
Since the trail is built on a former rail line, the average grade is relatively small. However, the section between Fletchers Boathouse and River Road does have a pretty good climb. Depending on your physical condition, you may expect a good workout along this section. The highest point of the trail is in downtown Bethesda, the location of the new Wisconsin Avenue Tunnel.
---

Connecting Rides:

These bike routes use the Capital Crescent Trail.