Miles: 20
Difficulty: I
Bikes:
ATB, Hybrid


The Zoo Review
---
Trails Used
---
Connecting Routes
---
Related Sites
NOTE: This route recommended for weekends only due to traffic issues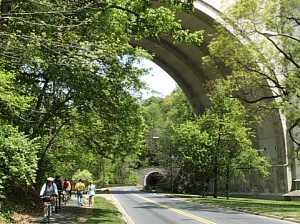 Photos along the route
This really great bike route is one of the most popular on this site. It uses both Rock Creek Park and the Capital Crescent Trail, with an optional stop at the National Zoo.
Basically, this route heads south along the Rock Creek Parkway, past the National Zoo, towards the Georgetown district. This section is all downhill, using a mixture of on-road and side paths. The paths are basically in poor condition, so this great for ATBs. During weekends (7 am Saturday to 7 pm Sunday), the on-road sections are closed to traffic. If you decide to stop at the Zoo, you can walk your bike up the hill a bit (riding bikes in not allowed). There is a bike rack right in front of the Ranger Station a few hundred yards into the Zoo.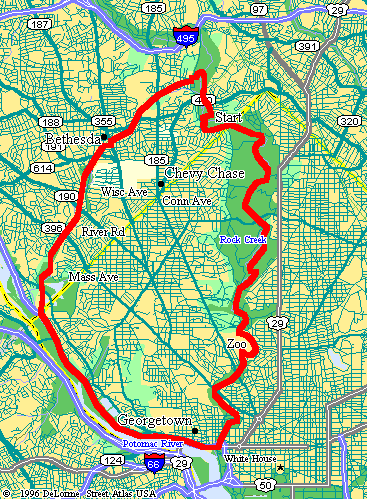 Map of Route

Once you reach Georgetown, you have several options. My route suggests that you hang a right onto K street (underneath the Whitehurst Freeway), and follow this over to the Capital Crescent Trail Head. Optionally, you can take the C&O Towpath from its trail head (just north of K street) for about 3 miles, rejoining the Capital Crescent Trail at Fletcher's Boathouse. You can also continue south past K street to visit the Lincoln Memorial and the Capital Mall.

The Capital Crescent Trail will take you north to Bethesda, MD. Since this is a former railroad right-of-way, it has a very slight up hill grade. The route then passes under Downtown Bethesda via the new tunnel to the new Georgetown Branch Trail. This is the only unpaved section (fine crushed gravel) and is suitable for ATBs or Hybrids. The route then rejoins the Rock Creek Trail and returns you back to the start.




There are two suggested starting points. Meadowbrook Park (formerly known as "Candy Cane City") is located near the intersection of East-West Highway and Beach Drive. (It is very near Washington's "Northern Tip"). This location provides plenty of free parking. Another good starting point is the Capital Crescent Trail Head in Georgetown. Although free parking is harder to come by here, this starting point allows you to attack the long gradual climb to Bethesda first, and then enjoy the long downhill ride through Rock Creek park.