The Salisbury Viaduct, near Meyersdale, PA
The Allegheny Highlands Section follows the Casselman River up into the rugged Eastern Continental Divide, and then down the other side into Cumberland Maryland. This section, completed in December 2006, fills in the long standing missing link separating Pittsburgh and Washington, DC.
Map of Allegheny Highlands Trail
The trail surface is crushed gravel and is in excellent condition. The western half of the trail runs along the south shore of the Casselman River, and is nearly flat and well shaded. There are currently several landmarks on this trail. The first point of interest is the Pinkerton Tunnel and its two trestles. The tunnel, located about a mile south of Markleton, is only 800 feet long. It has sustained about 1 million dollars in "freeze" damage and thus is no longer safe. As a result, a 1.5 mile detour was recently opened around the Pinkerton Horn. The other major landmark is the 100 foot high, quarter mile long Salisbury Viaduct which spans the Casselman Valley and Route 219 between Garrett and Meyersdale. Nearby, you can see the Green Mountain Wind Farm.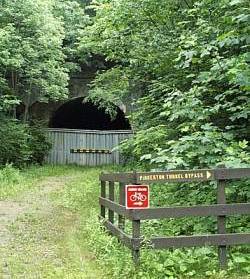 Pinkerton Tunnel
The recently completed eastern half of the trail follows the Flaugherty Creek up hill toward the 3,300 foot long Big Savage Tunnel. Once through, you may often notice a big change in the weather. Stop to enjoy the view and then experience the rather steep decent all the way down to Cumberland, MD. Along the way, you might see a Western Maryland Scenic Steam Locomotive chugging up the hill back toward Frostburg.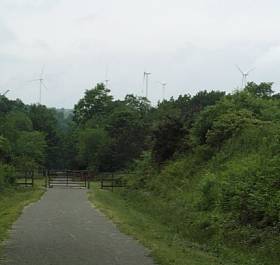 Approaching the Green Mountain Wind Farm
Once you have reached Cumberland, enjoy one of the cafes along the pedestrian mall, or stop by the C&O Canal Visitor Center and Museum. Not ready to turn around? No problem! Keep going another 184 miles along the C&O Towpath to Washington, DC.
NOTICE: The Big Savage Tunnel is closed during the cold winter months to prevent freeze damage. No passage is possible during this period. See GapTrail.org for exact dates.
---
---