The Youghiogheny River Section, or Yough (pronounced YOCK) for short, is located southwest of Pittsburgh and cuts through the rugged Allegheny Mountains. The 32 mile long North Yough Section runs through the southwest Pittsburgh suburbs and is operated by by the Regional Trail Corporation. The 33 mile long South Yough Section runs through the Yough Gorge and Ohiopyle State Park, and is maintained as part of the park.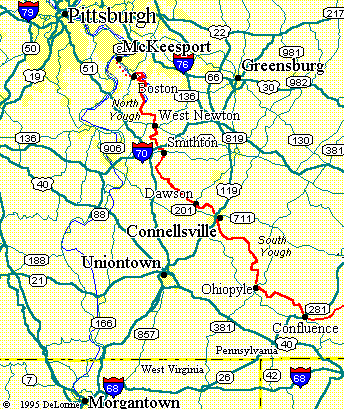 Map of Trails
The town of Ohiopyle, PA has become something of a tourist mecca. In addition to the Yough Trail, this unusual little town is located smack in the center of the state park and consists mostly of river tour companies and B&Bs. However, the main reason for the tourist trade has to do with a strange quirk in the Yough River at this point called "The Loop". The river makes a sharp bend just south of the town, which allows people to ride rapids for a mile or so, then hike back up to the top of the loop for another try. The scores of tour companies in town also offer longer river rides, so you don't have to hike back. Also, the famous Frank Lloyd Wright home "Fallingwater" is located about a mile north of town.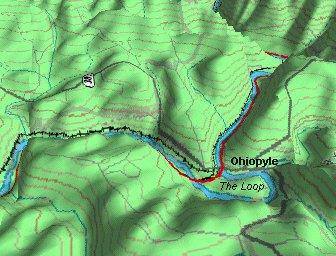 3-D Terrain Map around Ohiopyle, PA
The trail has an excellent crushed limestone surface, and there are some pretty incredible views from the trestles along the trail. Both bicycle and boat rental are available at Ohiopyle and Confluence. Please note that the trail can be quite busy on weekends, but is still no where near as bad as the D.C. area trails.
---
Directions from Washington
Mile 0 - Take I-270 North from I-495
Mile 33 - I-70 West to Hancock, MD
Mile 85 - I-68 West toward Cumberland, MD
Mile 148 - US 40 West toward Uniontown, PA
Mile 169 - Right turn onto Route 381
Mile 175 - Arrive Ohiopyle, PA
---
---
Lodging

Hostelling International , Ohiopyle
Phone: 724-329-4476
Dodds Hotel, Confluence
Phone: 814-395-3889
Ohiopyle Lodge - A two bedroom guest house, less than a block from the trail- sleeps six.

Related Links