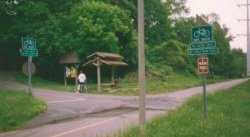 Custis and W&OD Trails (Mile 4)
Although the W&OD trail is a great facility, it does not quite get you to the downtown DC area. Instead, it ends in Shirlington, VA, which is about 6 miles (as the bike rolls) from downtown. As a result, the Martha Custis trail provides a very useful short cut for area cyclists.
Unlike the W&OD, the Custis Trail is not a Rail-to-Trail conversion. As a result, you can expect a few moderate climbs and winding turns over the trail's four mile length. There are also a few spots were sight lines are limited, so be sure to use caution. However, one really nice feature of the Custis Trail is that there are almost no grade crossings. There are only three crossings along the eastern most quarter mile of the trail.

---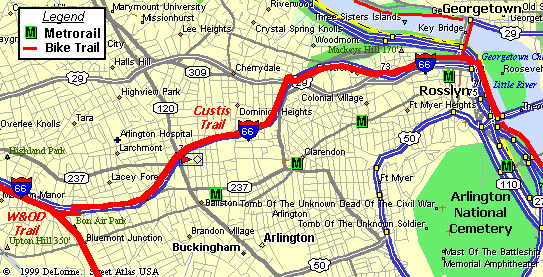 W&OD Trail Mile 0 thru 10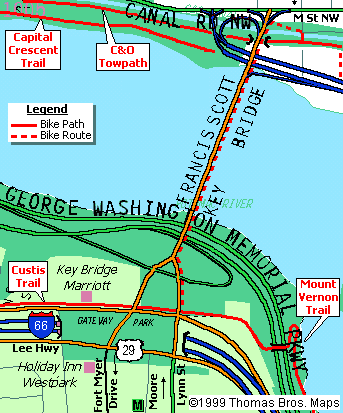 Detail of Rosslyn, VA
Arlington does a pretty good job at signing many of the trails in their county. However, signs are known to become "misplaced" from time to time. As a result, folks may sometimes have trouble locating the Custis trail. For cyclist on the W&OD, the Custis intersects at almost exactly the 4.0 mile marker. There is also a wild flower park and a covered bench at this location. After turning onto the Custis Trail, you will almost immediately come to a four-way path intersection. At this point the Custis Trail runs under I-66 and continues along the north side of the interstate for most of it's length.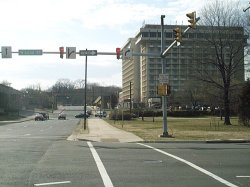 Custis Trail follows sidewalk in front of Marriott
(Lee Hwy & Lynn St)
Coming from the downtown area, the Custis trail is practically an extension of the Mount Vernon Trail. Upon reaching Theodore Roosevelt Island, simply follow the foot bridge over the GW Parkway. At the top of hill, you reach the intersection of Lee Hwy and Lynn Street in Rossyln, VA. The Custis trail begins here as a wide sidewalk running along Lee Hwy and passing in front of the Key Bridge Marriott. After passing the hotel, the trail changes to an asphalt surface as you begin a fairly steep climb. At the top of the hill, cross over I-66, and then hang a right to remain on the Custis as it follows along the interstate.

---
| | |
| --- | --- |
| Connecting Bike Rides: | Key Bridge - Easy bike crossing to Georgetown |