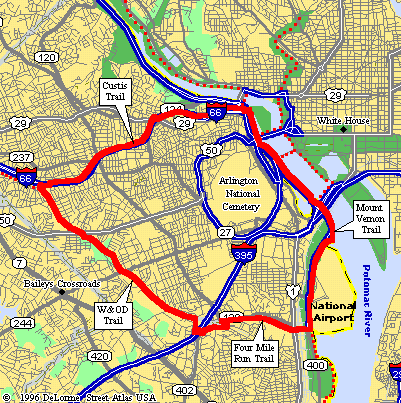 Map of Route
The Arlington Triangle makes a great "after work" route. It uses some of the most popular trails in the area including the W&OD and Mt. Vernon. This paved route is mostly flat, with only a few "hills" on the Custis Trail. The ride also offers a wonderful view of the National Monuments from across the Potomac River
Beginning at Roosevelt Island, the ride follows the Mt Vernon Trail south along the Potomac River and past Reagan National Airport. At the very southern edge of the airport, the route switches to the Four Mile Run Trail. This heads west over to the Shirlington Area, where a short on-road detour is required to cross over I-395 (see Detailed Map). On the west side of I-395, the W&OD and Four Mile Run trails run parallel to each other for about 3 miles. I have chosen the W&OD here, but the Four Mile Run Trail is fun if you like lots of twists and turns. At W&OD milepost 4 (where the trail meets I-66), the route switches to the Custis Trail. Which returns you back to the start.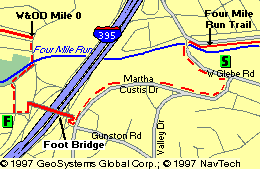 Detail of Shirlington Detour
I list the suggested starting point as Theodore Roosevelt Island. However, another good place to pick up the trail is at Gravelly Point Park, which is located just north of Reagan National Airport's main runway (a great spot for plane watching!). The route also provides easy bicycle access to downtown Washington DC via the Memorial and Fourteenth Street Bridges. The popular C&O Towpath and Capital Crescent Trail can be accessed via the Key Bridge (just north of Roosevelt Island).
NOTE: Although tempting, Roosevelt Island's paths are closed to bikes.