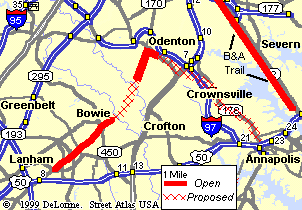 Future WB&A Trail Alignment
The Washington, Baltimore and Annapolis Trail (WB&A) is DC's newest Rail-to-Trail project. Eventually, this trail is planned to become part of the East Coast Greenway.
The trail is constructed on the old WB&A Railroad alignment. This railroad operated between 1887 and 1935 and was composed of three rail segments. The Main Line ran directly between Washington and Baltimore, roughly parallel to the current Amtrak line. This segment intersected with the South Shore Line at Odenton, MD. The South Shore line ran along the south side of the Severn River between Annapolis and Odenton. The third segment, the North Shore Line, ran between Annapolis and Baltimore. Today, this segment is now the popular B&A trail.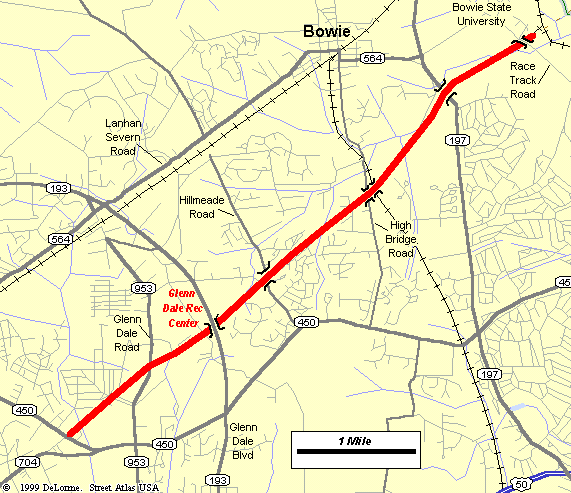 Completed Prince Georges County WB&A Trail Section
The WB&A Trail begins at the corner of Rt 450 and 704 (Annapolis Rd and MLK Hwy) near Lanham, MD and follows the original Main Line rail alignment. It runs northeast through Prince Georges County past Bowie, MD to the Patuxent River. Much of the trail runs under some high-voltage power lines, so don't expect much shade during the hot summer months.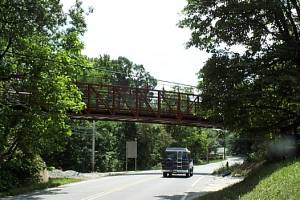 New WB&A Overpass crossing High Bridge Rd
Presently, two sections of the WB&A trail are now complete. The Prince George's County section contains six completed miles, four miles of which avoid at-grade crossings thanks to four overpasses and two underpasses. Neighboring Anne Arundel County has completed about 3 miles between Odenton, MD and the Piney Orchard community. Attention is now focused on the missing link between these two completed sections. Once completed, the trail will provide an excellent, traffic free, bike commuter route between central Anne Arundel county and the New Carrollton area. However, this missing section is heavily opposed by adjacent land owners, so don't hold your breath. The other remaining section will run from the intersection of Rt 175 and Rt 677 in Odenton, along Rt 175 and Rt 178, to the Bestgate Mall near Annapolis.
Despite the surrounding suburban development, there is actually quite a bit of wildlife to see along the trail. The little pond adjacent to the Electric Avenue Parking Area attracts ducks, herons, and MANY turtles. In fact, a snapping turtle has been seen "scampering" across Old Pond Road. Of course, you should keep an eye out for deer, especially along the northeast section (near the Patuxent River Preserve).
Once the entire 22 miles are complete, the WB&A will become part of the American Discovery Trail.

Thanks to Rick Arendt for his help on this article!
Related Sites: