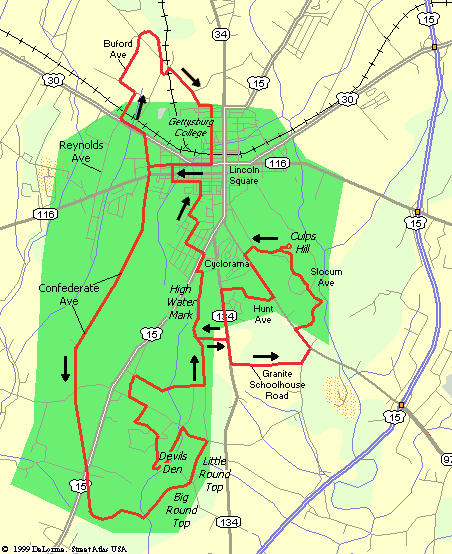 Map of Route
The town of Gettysburg, PA, location of the famous Civil War Battlefield, is about a 1½ hour drive from the Capital Beltway. However once you arrive at Gettysburg, the best way to experience the beautiful countryside around the battlefield is by bicycle. When my wife and I rode this route in July 2001, we decided to rent a tandem bicycle from Blazing Saddles (which has since gone out of business).
The suggested starting point is the Visitor Center Parking Area, located just south of the Business 15 and SR 134 intersection on the south side of town. From here, the route heads north through through the back streets of Gettysburg
After passing through town, the route basically makes three circles outside of town. First, the route makes a loop north of town, passing the Eternal Light Peace Memorial and Gettysburg College. The second loop takes you south around the main battlefield, and includes a "nice" climb Little Round Top. The third loop follows the lesser traveled roads around Culps Hill. Just prior to completing the ride, the route passes the High Water Mark, which many consider to be the turning point in the war. As you cycle around the battlefield, be sure to stop and climb up a few of the observation tower for some really great panoramas of the surrounding countryside.
From the Capital Beltway, take I-270 North to Frederick, MD. At Frederick, continue straight onto Route 15 North, passing Thurmont and the Mason-Dixon Line. Take the Route 134 exit (Taneytown Rd) which will take you up to the Visitor Center.