This is a wonderful route through the valley east of Thurmont, Maryland. Thurmont lies at the foot of the Catoctin Mountains (part of the Blue Ridge Mountain Range). The President's retreat, Camp David, is located in the mountains just northwest of Thurmont.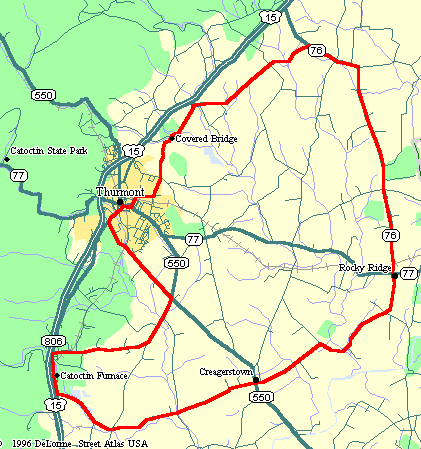 Map of Route
This ride is derived from Chuck and Gail's Ride #23 "Bridges to the Past", basically extending their short route thanks to a new bridge at mile 15.3. The two major points of interest on the route include a covered bridge at Mile 2.0 and the Catoctin Furnace at Mile 18.1.
The roads in the valley are very lightly traveled, making it a low stress ride for bikes. The first half of the route is fairly flat. After Rocky Ridge, the terrain becomes more rolling, with a couple of moderate hills, but nothing too rough. Food is only available in Thurmont, which has several restaurants and conveniences marts.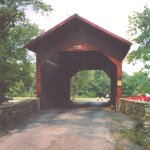 Covered Bridge at Mile 2.0
Thurmont is located about 1 hour north of the beltway. Directions:
Mile 0 - From I-495, take I-270 North toward Frederick.
Mile 33 - At Frederick, take Route 15 North.
Mile 50 - Right on Route 806 at bottom of ramp. At the next light, make a left onto Frederick Road
Mile 51 - Left into Thurmont Community Park.