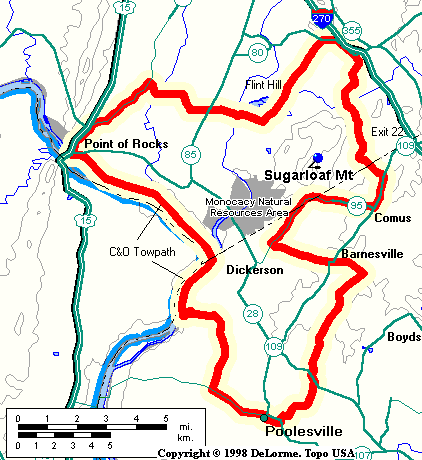 Map of Route

This is a variation of Route 15, "Back of Sugarloaf", from the Greater Washington Area Bicycle Atlas. The first half of this route is real easy, but then things get rough as you must tackle four or five "sizable" hills around Sugarloaf Mountain. The work you will put in for this one is well worth the scenic landscape of Western Montgomery and Frederick Counties.

The trip begins at Poolesville High School and follows some quiet back roads to the Dickerson Regional Park. Here, the route joins the C&O Towpath which takes you up to Point of Rocks, MD. The route continues on backroads which brings you to the edge of Sugarloaf Mountain. At this point, the "challenge" part begins as you must climb "the wall" to the top of Flint Hill. Stop off at the Flint Hill General Store for lunch, and then work your way through a scenic valley over to the hills around Comus and Barnesville (with an optional climb to the top of Sugarloaf Mountain). The loop completes with a casual cruise along Peach Tree and Cattail Roads back to Poolesville.

Poolesville is accessible from I-270 by taking Exit 22, Route 109 south. Optionally, you can take Whites Ferry across the Potomac River from Virginia. The route begins at the corner of West Willard and Wootton Avenue with parking at Poolsville High School.

Elevation Cross Section of Route