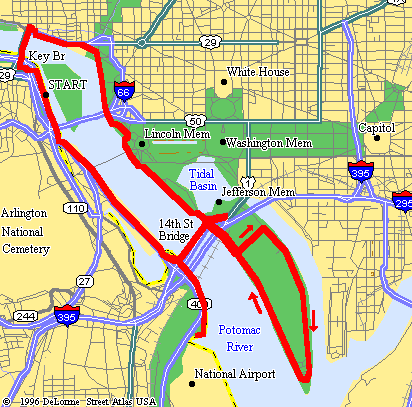 Map of Route
This short tour around the downtown DC area provides some great views of the major monuments. The route makes use of the numerous recreation paths along the Potomac River shores, with some on street riding.
The suggested starting point is the parking lot at Roosevelt Island. There are two crossings of the river. The first crossing uses the Key Bridge between Rossilyn, VA and Georgetown. The second crossing uses the 14th Street / I-395 bridge near the Thomas Jefferson Memorial.
In addition to some of the major monuments, there are other neat landmarks along this trip. Check out the cool "Awakening Man" Statue at Hains Point. An optional two mile detour to the National Airport Overlook is great for aircraft buffs. Another nice diversion is to explore the many sites along the Mall between the Lincoln Memorial and the Capitol Building.