This challenging tour of Northern Virginia features two popular Washington D.C. area trails. This trip begins at Theodore Roosevelt Island, just across the river from the infamous Watergate Hotel. From here, the ride heads south along the ever popular Mount Vernon Trail taking you past National Airport, Olde Town Alexandria, and George Washington's Mount Vernon Estate.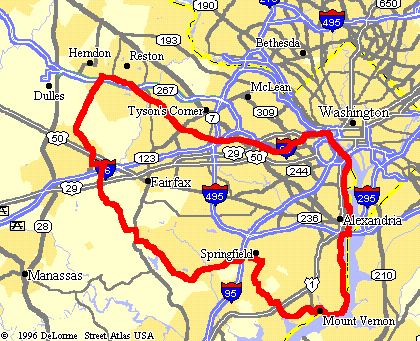 Map of Route

After passing Mount Vernon, the route takes to the streets. It continues along the Mount Vernon Parkway shoulder and then passes through Fort Belvoir. CAUTION: Woodlawn Road inside Fort Belvoir does not have any shoulders and is fairly heavily traveled.

The route then follows the Beulah Street Bike Lanes to the Franconia-Springfield Parkway. Here, a "bike path" runs parallel to the Parkway (with a couple of detours along the way). This begins a long 25 mile section along busy highways (not much fun). After passing over I-95, the parkway changes name becoming the Fairfax County Parkway. The path along this section is a bit more bicycle friendly, but there are still a couple of detours (at Ox Road and West Ox Road) and a lot of traffic noise.

At the northern end of the Parkway, the route switches to the very popular W&OD Trail This final 20 mile leg is a relaxing, mostly downhill, ride back toward the start. At W&OD Mile Post 4, the route switches to the Custis Trail which takes you back to Roosevelt Island.

This is a fairly challenging ride with a couple of moderate hills sprinkled in for good measure. There are some long sections where food options are quite limited. Also, the parkway trail is not very shady, so I would not recommend this ride for a hot August afternoon (like the day I rode this!) The route does go past several Metro stations, which provide a nice bail-out option.