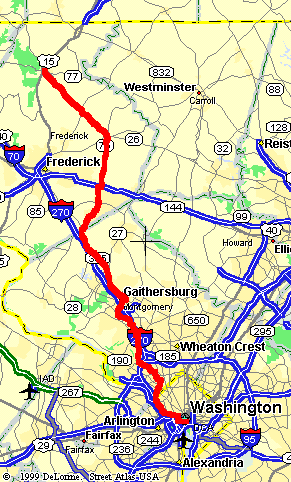 Map of Route
Click Here for Cue Sheets
Here is a "no nonsense" route between Washington, DC and Thurmont, MD. The southern half of the route tries to use "bike friendlier" roads and side paths through Washington's busy suburbs. As the route progresses, it follows the lightly traveled state highways of northern Maryland's rural countryside. However, this route does require riding with some high speed traffic, so only fairly experienced cyclists should use this route.
The route leaves Washinton via the popular Capital Crescent Trail. It then follows the shoulders of Bradely Blvd and Seven Locks Road (two popular bike routes). Between Rockville and Germantown, the route uses a combination of suburban streets and side paths along Great Seneca Hwy, Muddy Branch Rd, and Route 355.
Soon after crossing Route 27, the route becomes more rural and more hilly. Route 355 becomes a two lane highway with narrow shoulders (not the best for bicycles, but passable). After passing Hyattstown, MD, the route follows follows Route 75. This is a lightly traveled highway that lacks shoulders in some sections. The main trouble spots are between Route 80 and I-70, and the mile or so before Liberytown, MD. From Libertytown, it is basically a straight shot to Thurmont along Route 550.