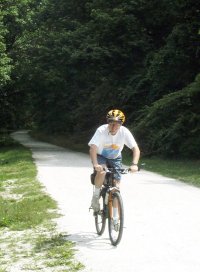 Greetings from the NCR
The Northern Central Railroad (NCR) and York County Heritage (YCH) combine to create a simply an awesome trail. Despite its proximity to Baltimore, this 41 mile long trail follows nearly all rural terrain (with much of it along side Gunpowder Falls River). The surface is fine crushed gravel and is in generally good condition. The trail is also well shaded, so it is nice even on the hottest summer days.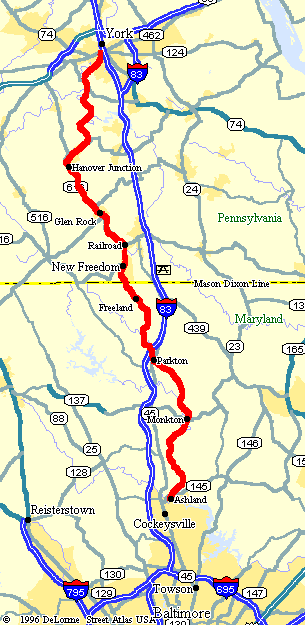 Overview of NCR/YCH Trails
The NCR trail begins in the small community of Ashland, Maryland. It continues north for 20 miles to the Mason-Dixon Line. Here, it enters Pennsylvania and becomes the YCH. The trail then continues another 21 miles north to York, PA. (This includes the newly opened 10 mile section between York and Hanover Junction.)
The trail is easily accessible from I-83. The southern trail head begins at a small neighborhood called Ashland, which is just off York Road in Cockeysville, Md. Parking here is typically tight, so most people park along Paper Mill Road, about a half mile north of the start. Parking is also available at several other points along the trail.
The southern 10 miles is quite flat. Once you approach Parkton, the trail begins a pretty good climb up to New Freedom, the highest point on the trail. (However, this 2-3% grade is nothing compared to the surrounding hilly terrain). From New Freedom, the trail begins a continuous decent to the northern terminus.
The NCR is quite rural, so make sure you bring along enough food and drink. In Maryland, the only real food stop is at a small general store in Monkton (around mile 8). The trail's visitor center is also located here. There are picnic tables located every mile or so.
In Pennsylvania, the YCH provides amenities every few miles. There is also an operational parallel railway adjacent to the trail, which is used as a hobbyist / tourist attraction between York and New Freedom.
For further details, refer to one of the detailed map sections.