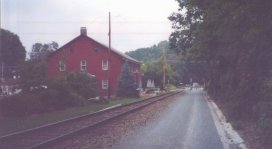 Entering Railroad, Pa
The town of New Freedom marks the highest point along the NCR and YCH trails. From here, it's all down hill on the way toward York, Pa. Along this section, the trail passes through several quaint towns including Railroad and Glen Rock. Sadly, the parallel Northern Central Railway, an excursion railroad noted for on-board dining and theater, went out-of-business in Sept 2001.
---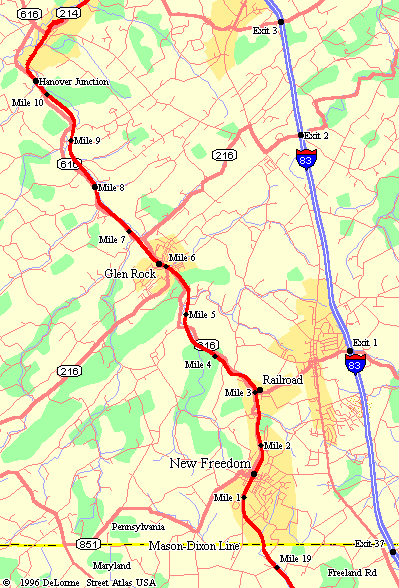 Map of Southern York County Trail - Mileage from State Line
Parking:
Mile 1.5: New Freedom: From I-83 Exit 1, about 1.5 miles west on Rt 851 to Railroad, then left to remain on 851. Parking lot at Front and Franklin Streets.
Mile 3.0 - Railroad: From I-83 Exit 1, about 1.5 miles west on Rt 851.
Mile 6.0 - Glen Rock: From I-83, exit 2, take Rt 216 west for 4.5 miles.
Mile 10.5 - Hanover Junction: From I-83 Exit 3, follow Rt 214 for 5 miles. Then make left onto Rt 616.

Food:

Mile 1.5: Stores and Restaurants
Mile 3.0: Drinks and Snacks
Mile 6.0: Magnano's Pizza, other restaurants.

Lodging:

Mile 3.0: Jackson House Bed and Breakfast
---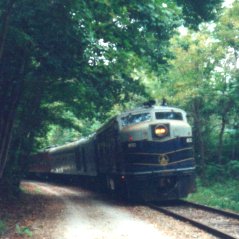 A sight from the past. Trains no longer run.
---
Historical Note: Abraham Lincoln disembarked from the NCR at Hanover Junction, on his way to deliver the Gettysburg Address.