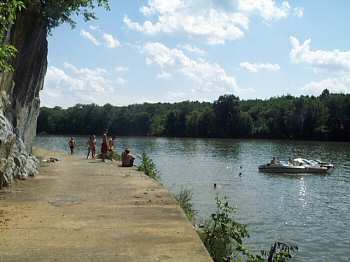 Mile 107 - Swimming above Dam Number 5
This section is, in my opinion, one of the most difficult to ride. The towpath surface consists of a coarser gravel base which makes riding rough. Plus, the long strait sections can become quite tedious. Also, the towpath follows very close to Interstate 70, so the highway noise becomes quite noticeable. However, the Western Maryland Rail Trail run parallel to the towpath between mile 115 and 124. This paved trail provides a nice alternative.
There are some points of interest here. Four Locks marks one of the few spots were the canal strays from the Potomac River Basin. Fort Frederick State Park, located nearby, was used for various purposes between the French & Indian and the Civil Wars. Today, it provides several recreation facilities including boat rentals and a launch. Big Pool Lake, just west of the park, was constructed to reduce the amount of digging required for the canal basin. The single arch Licking Creek Aqueduct is said to have the largest stone arch in the U.S.
Access Points: From Maryland I-70:
Mile 108.6 - Four Locks Recreation Area:
Use I-70 Exit 18
Follow Route 68 South for about 1 mile
Turn right onto Ashton Rd.
At the next intersection, make a right onto Route 56
Travel about 2 miles, then make a left onto Four Locks Road.
Mile 110.0 - McCoys Ferry Campground:
Use I-70 Exit 12
Follow Route 56 past Big Pool and Fort Frederick
After about 3 miles, make a right onto McCoys Ferry Rd
Mile 112.4 - Fort Frederick State Park:
Use I-70 Exit 12
Follow Route 56 past Big Pool
After about 1 mile, make a right onto the park
| Mile | Name | Info | | | | | |
| --- | --- | --- | --- | --- | --- | --- | --- |
| 106.6 | Feeder Dam #5 | Access via Dam #5 Road - Parking Area. | | | | | X |
| 108.1 | Charles Mill | Ruins located on berm side of canal. | | | | | |
| 108.6 | Four Locks | Large parking area, boat ramp. | | | | | X |
| 108.7 | Lockhouse 49 | Stay overnight in a real lock house. Electricity with baseboard heating and stove, but no running water. Water pump nearby. | | | | X | |
| 109.6 | North Mountain H/B (map) | Hiker/Biker campsite. 0.4 miles from vehicle access at mile 110.0 | | X | X | | |
| 110.0 | McCoys Ferry Recreation Area (map) | Primitive RV and Tent Camping - Fee Area $10/night | | | X | | X |
| 112.1 | Fort Frederick State Park (map) | ?301.842.2155: Massive pre-revolutionary fort. Easy access from towpath. Water is available from hydrant, just 20 feet past the railroad crossing on the left. | | X | X | | X |
| 112.5 | Big Pool | East End | | | | | |
| 114.0 | Big Pool | West End | | | | | |
| 114.5 | Western Maryland Rail Trail (map) | Eastern Access Point. Trailhead located 0.7 miles downstream of this point at Route 56 | | | | | X |
| 116.0 | Licking Creek H/B | Hiker/Biker campsite. 1.5 miles from vehicle access at mile 114.5. Located Near I-70 - Subject to traffic noise. Earplugs suggested for camping. | | X | X | | |
| 116.0 | Licking Creek Aqueduct | | | | | | |